Intel Atom N270 price-increase, plus Z550 & Z515 delays?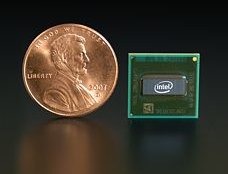 Fresh Intel Atom rumor for your Monday morning, and whether you're wishing for cheap netbooks or faster ones you may be in for disappointment.  According to multiple sources at netbook and MID manufacturers, Intel are considering increasing Atom N270 pricing in the face of component shortages, while they're also said to have postponed the launch of their Atom Z550 and Z515 processors.
The price increase – which, it's believed, would put an Atom N270 chip at the same cost of the company's newer N280 processor – has been forced by a larger-than-expected number of white-box netbook manufacturers entering the market.  Without tweaking the prices, there could be a shortage of N270 chips come April.
As for the two new Atom processors, the Z550 which was leaked last week and the Z515, they've reportedly been delayed until mid-April.  The Z550 will run at 2GHz and use Intel's US15W chipset, while the Z515 will run at 1.2Ghz and have the pick of the US15W or low-power UL11L chipsets.  Intel have also given the Atom Z515 its new Burst Performance Technology (BPT), which can intelligently adjust clock-frequency according to performance demands.
Intel declined to comment on both rumors.