Intel and AMD team on potent gaming chipset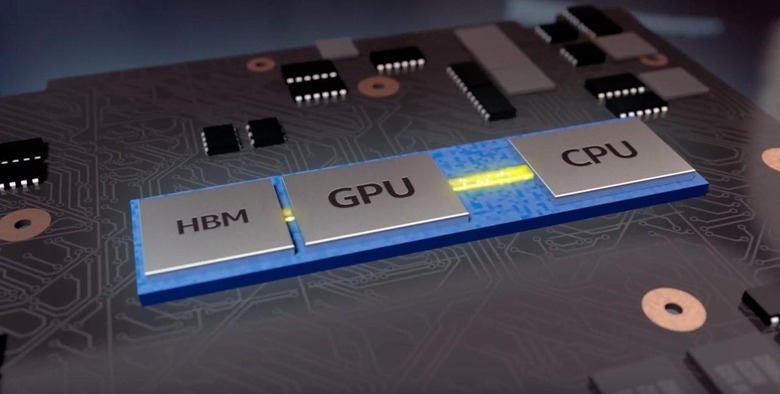 Intel and AMD have teamed up unexpectedly to make a brand new chipset that puts AAA gaming performance into more portable laptops. Though the two companies have been long-standing foes, battling for dominance in desktop and notebook processors, this new addition to the 8th Gen Intel Core family has Intel's CPU but a custom AMD GPU. They're joined by a new bridge specially designed to speed up intercommunications.
It's called EMIB, or Embedded Multi-Die Interconnect Bridge, and it's being used for the first time in this new chipset. Intel created it with moving data at high-speed between heterogeneous silicon at close proximity. It's embedded into the package substrate, onto which the CPU, GPU, and the graphics memory are placed.
That has speed benefits, versus the current architecture that typically spreads those different components around the mainboard. However, it also has physical benefits. Since the EMIB is embedded into the substrate itself, rather than being surface mounted, it makes for an overall thinner chipset.
That height benefit will allow notebook manufacturers to make thinner and lighter computers, without sacrificing discrete graphics. The GPU itself is exclusive to Intel, specially designed from AMD's Radeon range and paired with second-generation High Bandwidth Memory (HBM2). Full specifications haven't been shared yet, but the two companies claim that it's up to AAA gaming titles, virtual reality, and intensive content creation.

All that would be for naught if your laptop battery was gone in twenty minutes. Happily, that doesn't sound like it'll be the case. In addition to the EMIB, Intel has also designed a new power-sharing framework which promises to take into account the CPU, GPU, and dedicated graphics memory at once, for more efficient power management.
That builds on special software drivers and interfaces on the graphics chip itself, which are responsible for controlling temperature, power delivery, and performance state of all three parts in real-time. It allows for custom profiles of power sharing between the processor and graphics depending on use-case, like pushing more to the GPU during intensive gaming sessions. In that vein, the system is the first mobile PC to use HBM2 memory, which is both smaller and more power-frugal than GDDR5 gaming memory.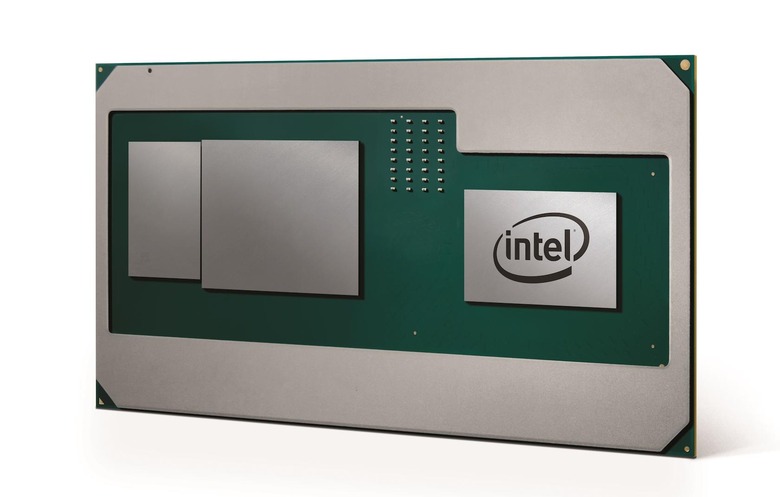 The so-called Intel single-package package multi-chip solution won't be replacing any of Intel's current 8th Gen Core products (or, indeed, AMD's own Ryzen Mobile chips) but adding to the line-up. For two long-time rivals it's a marriage of convenience, not least to gain an edge over graphics heavyweight NVIDIA, which has been dominating in gaming PCs of late. The first machines – which could include not only thin and light notebooks, but 2-in-1s and mini desktops still up to the task of gaming – using the new Intel and AMD chip are expected to hit the market in the first quarter of 2018.