Intel 45nm Celeron E3000-series and 3.2GHz Core i7 coming 2H09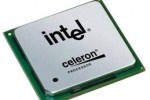 Intel's upcoming CPU plans continue to leak out, with motherboard manufacturers apparently tipping a new entry-level Celeron range in Q3 2009 together with a new Core i7 processor in Q4.  The Intel Celeron E3000 series will replace the existing E1000 series, and initially consist of 45nm 2.4GHz and 2.5GHz chips.  As for the performance chip, that will be the 3.2GHz Core i7 960.
The E3000 Celeron processors will each have 1MB of L2 cache, an 800MHz FSB and 65W TDP.  The E3200 will run at 2.4GHz while the E3300 will run at 2.5GHz, and both will support VT-x virtualization.  That means Windows 7's XP Mode will run.
According to the unspecified sources, Intel expect the new E3000 range to account for 10-percent of their entry-level CPU shipments in Q4 2009, rising to 21-percent in Q1 2010.  Meanwhile the D410 nettop chip is predicted to capture 6-percent in the first-quarter next year, lagging behind the faster D510 with 25-percent.