Intel 10th Gen "Ice Lake" CPUs official: Project Athena sets PC blueprint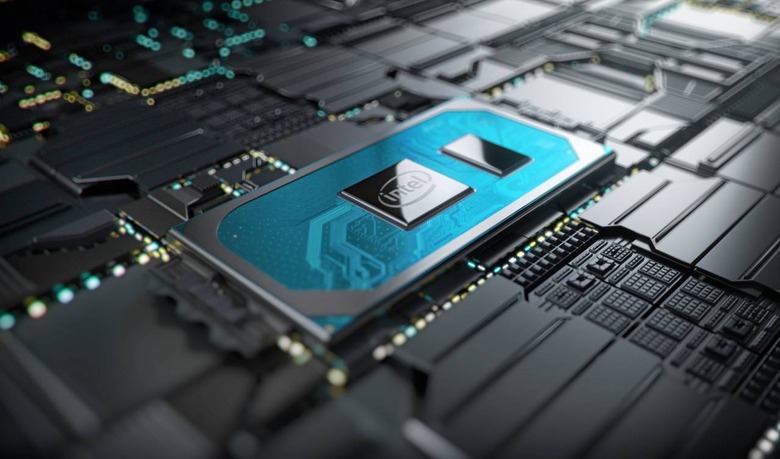 Intel's 10th Gen Core processors – aka "Ice Lake" – are now shipping, the chip-maker has confirmed, promising a particular leap in graphics performance and connectivity. The Ice Lake chips are based on Intel's 10nm processes, and were unveiled at Computex 2019 in Taiwan this week.
Initially, the 10th Gen Core chips will be available for thin-and-light laptops along with 2-in-1s. Intel will start out producing Ice Lake processors with 9W, 15W, and 28W TDP; more potent versions for workstation notebooks and desktop PCs will have to wait.
Intel 10th Gen Core CPU
Intel will have Core i3, i5, and i7 versions of the Ice Lake chips, at least to begin with. They'll be offered with up to four cores and up to eight threads. CPU clock speeds of up to 4.1 GHz in max turbo frequency will be supported.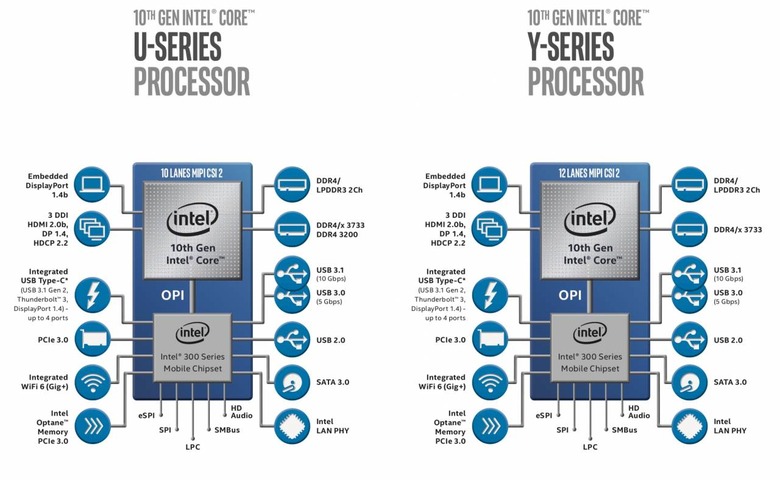 There'll be up to 8MB of cache, and support for LP4/x-3733, DDR4-3200 memory. Depending on memory type, Ice Lake-based notebooks will be able to support up to 64GB of RAM.
Actual performance improvements from the CPU are fairly conservative, in comparison to other changes Ice Lake brings. Compared to a four year old 6th Gen Skylake CPU, for example, Intel says the comparable Ice Lake chip is 18-percent faster. If you're contrasting with the 8th Gen Whiskey Lake, however, the improvement is far more conservative.
Intel Iris Plus Graphics
The bigger improvement is in graphics. Here, Intel has equipped Ice Lake with its new Iris Plus GPU, based on its GenII architecture. That runs at up to 1.1 GHz, and nearly doubles the performance of its old 15W chips. It means an improvement across the board compared to the UHD 620 that came with the 8th Gen Core processors.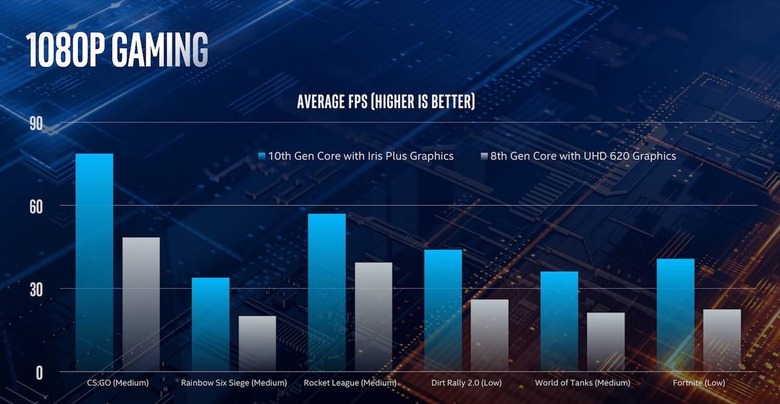 It should pay dividends in everyday tasks you're doing with your notebook, but don't get any ideas about never needing a discrete GPU. Even Intel admits that, while on games like Fortnite, Rainbow Six Siege, and World of Tanks it can now hit 1080p at 30fps, 60fps is still a big ask for most titles.
Just how many ultraportable owners hoping to do AAA gaming with their machines is questionable, though. Arguably far more useful are the specific improvements in graphics handling that Ice Lake brings, like HEVC encoding that's twice as fast. 4K HDR playback support is also welcome, and Ice Lake can handle three display pipes with up to 5K 60Hz resolution or 4K 120Hz (10-bit color) resolution.
Connectivity is key
Ports have become controversial in ultraportable notebooks. Where once it was the smartphone leading the argument in dropping headphone jacks and other connectivity, now laptop buyers have to choose just what ports they want on their new machine – and which they're willing to carry dongles for. Ice Lake promises some improvements there.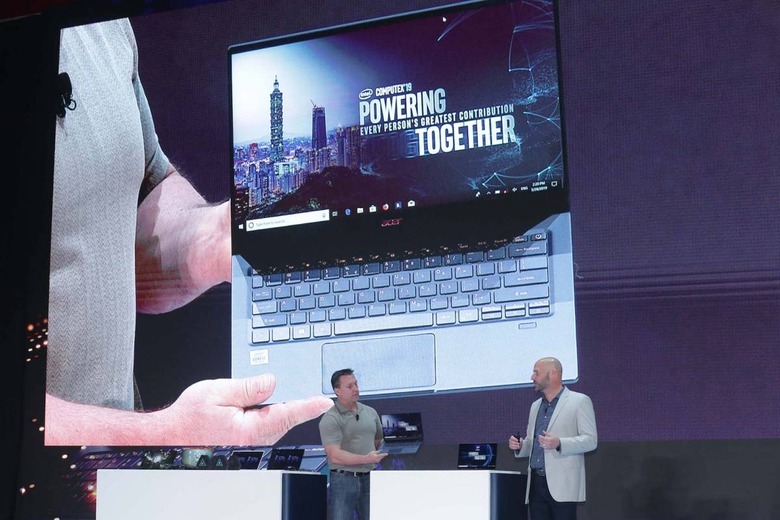 Biggest is likely integrated Thunderbolt 3, with up to four ports supported. There's also WiFi 6 support, too. The latter means up more than 1 Gbps wireless is possible, albeit with the right router.
It's not to say that every 10th Gen Core-based notebook will have both these features, mind. Although Intel has baked some of the functionality into Ice Lake, manufacturers will still have to add things like a radio module to get the WiFi 6 working, and a Thunderbolt 3 retimer to make the ports actually work.
Intel Project Athena
Intel is clearly counting on notebook-makers taking the hint and including the parts necessary to enable those features. Just to hammer the concept home, though, it's also releasing its Project Athena 1.0 target specification. That's the so-called "innovation program" which sets out a blueprint for Intel-based notebooks based on what the company says is based on "years of research to understand people's needs, challenges and expectations of the laptop."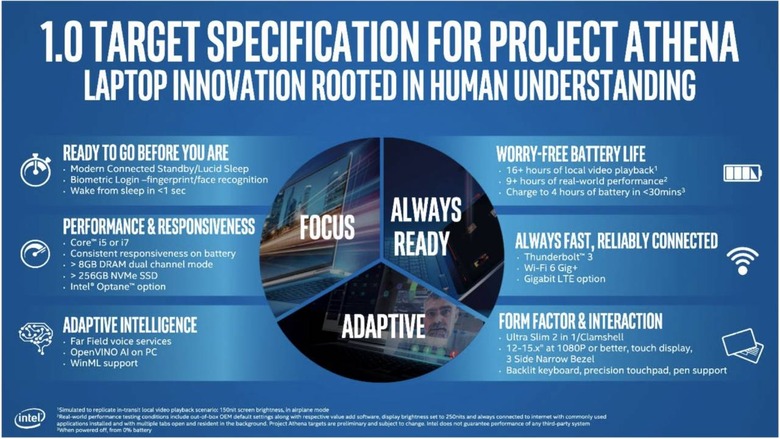 For example, Intel says that users particularly want consistent responsiveness while their laptop is on battery power. However they also want 16 or more hours of battery life when playing local video, or 9 hours of more "under real-world performance conditions." Systems should wake from sleep in under a second.
The demands and expectations have led to a 1.0 target specification, covering everything from performance, battery, connectivity, and form factor. You won't be surprised to hear that core Intel technologies like Thunderbolt 3 and speedy SSDs take pride of place. Still, the lure of customers upgrading has already seen Acer, Dell, HP, and Lenovo get onboard and commit to making Project Athena-compliant notebooks. We'll see them start to ship from the second half of 2019.