Instagram Live update brings split screen live videos with friends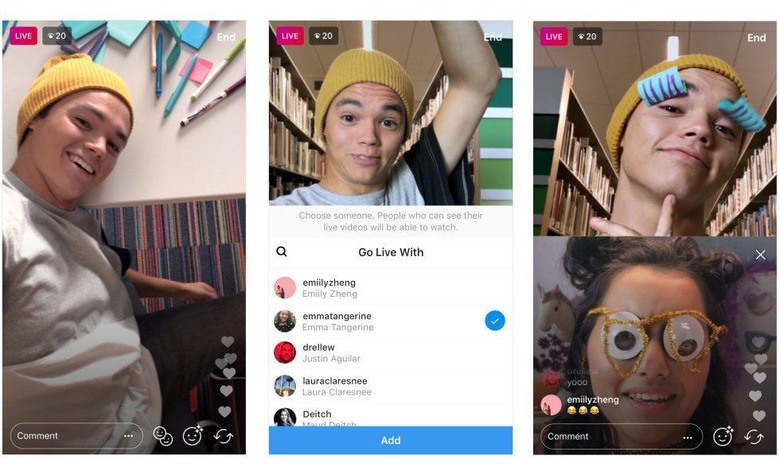 By most accounts, Instagram Live has been a success with users since it was rolled out as part of Stories nearly a year ago. The entire time, Instagram has been bolstering Live with new features, whether it's adding replays from your Live broadcasts to your Story or tossing in some Snapchat-like face filters as your friends watch. Today, Instagram announced perhaps the biggest new feature for Live since it launched: the ability to broadcast alongside a friend.
We heard that split screen dual broadcasts were coming to Instagram back in August, but now it seems that the feature is ready for prime time. As far as why you might want to have a friend join your broadcast, Instagram sticks to the same story it had when the feature was first revealed. Instagram sees this as a way for its more shy users to step out into the world of live video, as it believes that broadcasting alongside a friend might make the whole endeavor less intimidating.
Whatever your reason for wanting to broadcast a live video with a friend, getting up and running seems fairly easy. All you need to do is begin a live video from within the Instagram app and tap the new icon you see in the bottom right corner of your screen. This will pull up a list of everyone who is watching your live video, allowing you to select a viewer and add them to your broadcast.
Assuming your friend accepts your invitation, your live video will become a split screen broadcast that shows the camera feeds from both of you at the same time. You can remove your invited streamer at any time and, just as well, they can leave the broadcast whenever they like. Other than that, the process is identical to streaming a live video on your own – friends will be able to watch and comment just like they always have been, and when the stream is over, you can either add a replay to your Story or discard it.
The hope, obviously, is that this new feature gets more Instagram users to dive into live video. If you're eager to try it out, all you need to do is ensure your iOS or Android app is up-to-date (this feature is going live in Instagram version 20) and start streaming.