Instagram debuts curated video feed in time for Halloween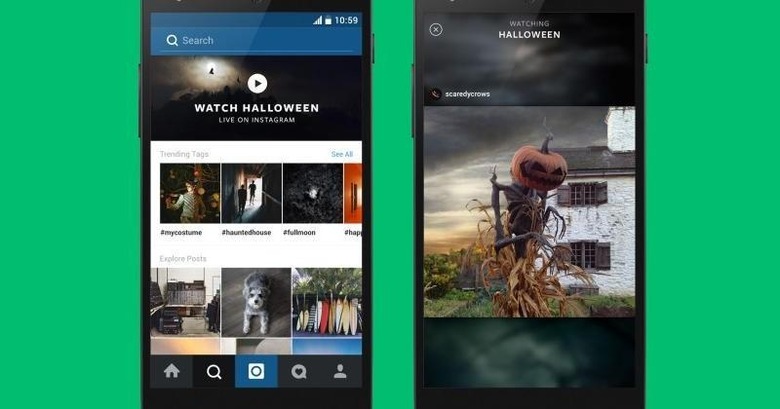 These days, social media isn't just about flooding the world with your status updates. Networks have gotten a bit smarter, a bit more thematic. They are trying not to just blabber on about what people had for lunch or funny cat pictures. Social networks are becoming somewhat more informative and more relevant by trying to showcase what's happening in the world around people. In light of that, Instagram soft launched off its own video channel of curated content, starting with all the Halloween videos you can stomach.
Curation is the name of the game in social networking services these days. Snapchat kicked off the trend with Live Stories, an evolution of the "Our Story" feature it opened up last year. More recently, Twitter launched its own Moments timeline that collated important events and trending topics under one roof, the social network's attempt at becoming a more formal source of news. And now it's Instagram's turn.
Instagram users in the US would have noticed the new feature if they opened the app during Halloween. A conspicuous banner at the top invited them to sift through the best videos of the Halloween festivities. The selection was made by hand by Instagram's staff, so there isn't any form of automation or machine learning involved. Whether that will scale in the future when it becomes a permanent feature globally, we'll just have to wait and see. For now, Instagram hasn't announced any such concrete plans yet. This could very well just be an experiment as well.
News has become an important point for many social networks as more and more people look to them for keeping abreast of events rather than flocking to more traditional news sources. Before the changing of the guards, Twitter envisioned itself transforming into such a news source, which eventually launched as Moments. Facebook, too, has been mulling over going down that path to compete with its rivals.
Unlike those, however, Instagram's video channel doesn't seem to be a 24/7 curation activity you would expect from news sources. Which might be for the best given how posts are handpicked by human staff among hundreds of available content. Instead, the social network will only reveal its video channel during special international holidays and events and big news events that would be interesting and relevant to everyone in the world.
VIA: WIRED