Insider Talk: Lenovo IdeaPad Yoga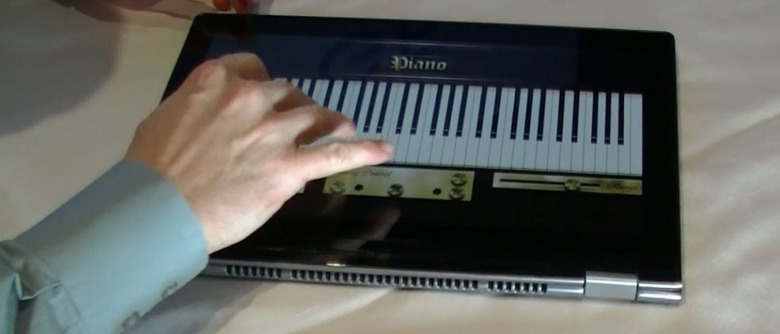 Ultrabooks are all the rage at CES 2012, but Lenovo's just unveiled a new model with an eye-popping twist. The Lenovo IdeaPad Yoga takes the slim frame of the other IdeaPad U-series ultrabooks and adds Windows 8, ten-finger multi-touch and a unique double-hinged design to make a convertible tablet with a full keyboard. It's one of the most unique designs we've seen at the show, so we asked Lenovo to the stage of the Showstoppers event to show it off.
At first glance, you'd mistake the IdeaPad Yoga for a newer version of the U300. It's a little lighter at around 3.5 pounds, a little thinner at 17 millimeters, and a little nicer with a soft-touch finish, leather wrist rest and a glass trackpad. The demonstration unit booted straight into a developer beta of Windows 8 with the Metro user interface, which is instantly accessible with the touchscreen. Flip the screen back, and the screen goes into tablet mode, with full control of the touch-based UI.
Controls for power and volume are located only on the book-style edge, making control in tablet mode possible. When the dual hinge goes past 180 degrees, the laptop keyboard (now facing down) is disabled. Standard Ultrabook internals power the Yoga, with Intel Core i3/i5/i7 and as much as 256GB of SSD storage.
Lenovo aims to bring the IdeaPad to market in the second half of 2012. Initially Windows 7 will be offered (presumably with some added touch functionality) and a reconfigured model with Windows 8 will be sold when the new operating system launches.