INQ's Cloud Touch budget Facebook phone up for pre-order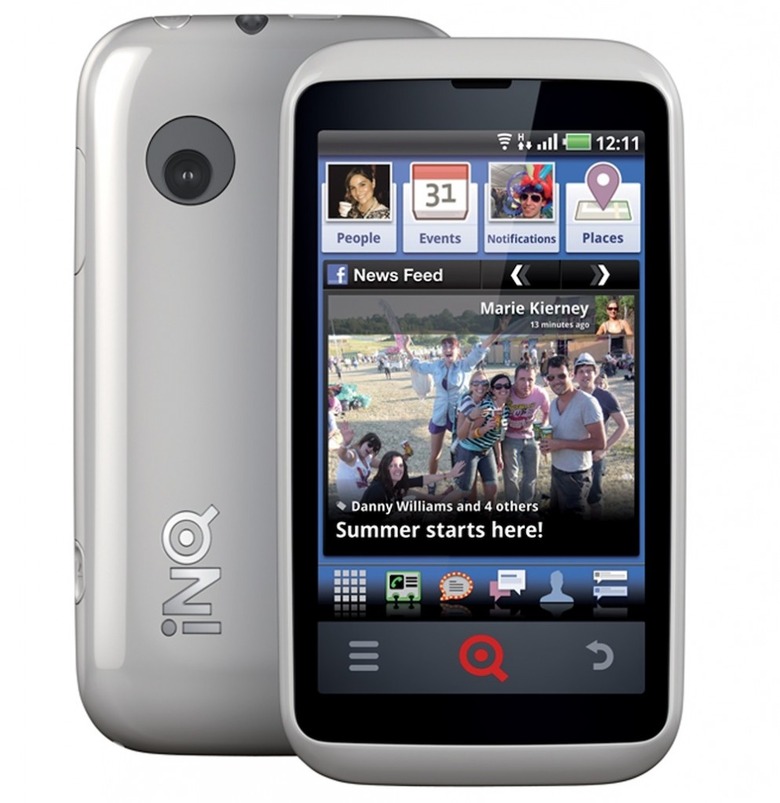 The INQ Cloud Touch, the company's first attempt at a Facebook phone, has been priced and dated for the UK, with pre-sales of the handset opening today and shipments expected to kick off from April 6. The budget-minded Android 2.2. Froyo handset has a 3.5-inch 480 x 320 touchscreen and 5-megapixel camera, but more interesting is INQ's custom Facebook app which heavily integrates with the homescreen.
Facebook chat, friends, messages, the Facebook Wall and notifications are all pulled into the homescreen, along with Facebook Events integration with the Google Calendar. There's also a Places widget, again on the homescreen, and one-touch access to galleries and other content.
Hardware, meanwhile, includes WiFi and Bluetooth, 3G, GPS and an FM radio. In June, it will be followed by the INQ Cloud Q, a version with a physical QWERTY keyboard. Pricing is free on a £20 or above contract, £199.95 on a pre-pay deal or £299.95 SIM-free.
[via Android Community]
Press Release:
PHONE FOR THE SOCIAL MEDIA GENERATION ARRIVES IN THE UK

The INQ Cloud Touch launches exclusively at The Carphone Warehouse and Best Buy

March 18, 2011 – The Carphone Warehouse and Best Buy are pleased to announce the arrival of an exclusive new Android device, the INQ Cloud Touch. Specially designed for social media fans, it has Facebook at its heart and provides quick access to the latest news and whereabouts of friends. It is now available to pre-order from www.carphonewarehouse.com, and will be available from 6 April from just £20 a month on contract, £199.95 on PAYG or £299.95 SIM free.

The INQ Cloud Touch is a sleek touch screen device which runs on the latest Android operating system providing super-fast access to all the latest functions and apps. It features a new Facebook app that streams a live feed to the homescreen while easy to use one-touch links to Chat, Friends, Messages, Wall and Notifications allow users a direct click-through to friends' updates, pictures, videos and webpages. The phone is also the first to use the Facebook social graph API, which enables users to follow updates from the friends they interact with most.

Consumers can also check in to their favorite shops, restaurants and clubs with Facebook Places, which is also active on the central home screen. If that wasn't enough, Facebook Events fully integrates with the Google Calendar on both devices.

The INQ Cloud Touch is the first mobile phone to hit the market that has been designed specifically for Facebook users. More devices are expected in the coming months, including the INQ Cloud Q in June, which will also be exclusive to The Carphone Warehouse and Best Buy.