Infuse 4G Review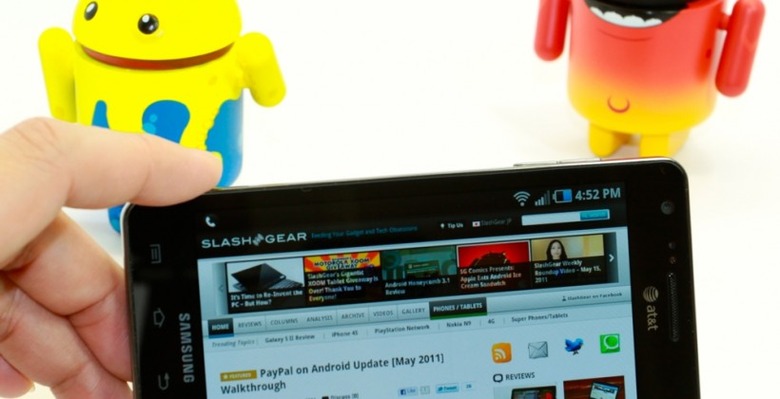 How big is too big? It's an important question when you're looking at the Samsung Infuse 4G, AT&T's latest HSPA+ smartphone and a device that's as sizable face-on as it is slender from the side. A close relative of the much-loved Galaxy S II, it also uses Samsung's Super AMOLED Plus display technology, only now stretched to a whopping 4.5-inches. More to love, or too much to handle? Check out the full SlashGear review after the cut.
Hardware
At first glance you could mistake the Infuse 4G for the Galaxy S II: both handsets have the same discrete plastic chassis and minimal bezel around a considerable screen. The Infuse 4G pushes the envelope for scale, however. At 0.36-inches for most of its length – the slight bump at the bottom is familiar from other Samsung handsets of late – the 4.5-inch WVGA display makes for a smartphone 5.15-inches long and 2.77-inches wide.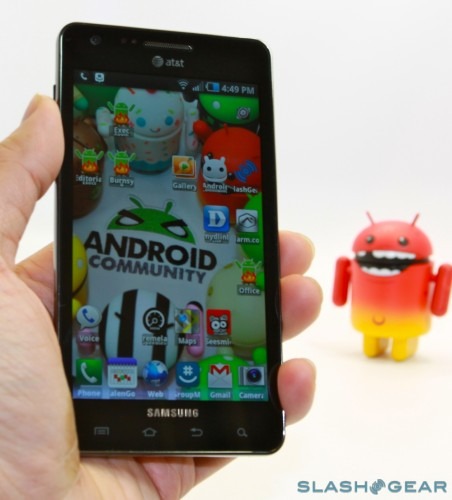 Construction is much the same as its slightly smaller sibling, with a Gorilla Glass front leaving us reasonably confident of putting the Infuse into a pocket without seeing it snapped. The textured battery cover is worryingly thin when you snap it off, though feels secure when in place; underneath is the SIM slot, a 1,750 mAh battery and, under that, a microSD slot with a pre-loaded 2GB card. 16GB of internal storage is split, 2GB for apps and the rest for multimedia and anything else.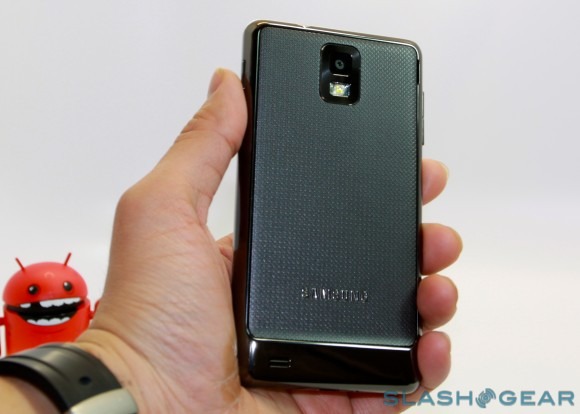 The biggest difference between the GSII and the Infuse 4G is the processor. Where the flagship gets a 1.2GHz overclocked dual-core, AT&T's phone makes do with a single-core, 1.2GHz chip. It's paired with quadband GSM/EDGE and triband HSPA+ 850/1900/2100, along with WiFi b/g/n, Bluetooth 2.1+EDR (not the 3.0 of the GSII) and USB 2.0. AT&T sensibly bundles the MHL to HDMI adapter, so that you can plug the Infuse 4G into your HDTV.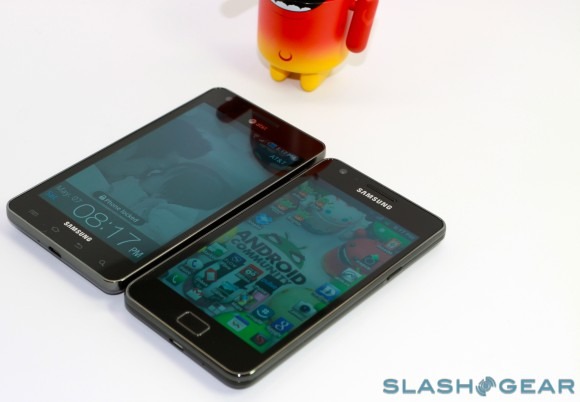 It's tough not to fall for the charms of Super AMOLED Plus. Samsung will happily tell you about its 50-percent extra sub-pixels and clever manufacturing, but most people will let their eyes be the judge: the Infuse 4G's screen is bright, color-saturated and incredibly vivid. WVGA should look pixelated blown up to 4.5-inches like this, but somehow Samsung has avoided that, with smooth fonts and graphics that bely the resolution.
Software and Performance
Samsung has opted for Android 2.2 Froyo on the Infuse 4G, an odd decision given the company has already released the Galaxy S II with Gingerbread and is in the process of updating the Galaxy S to the same. On top there's TouchWiz, still something of an acquired taste, though at least improved in this iteration over earlier Samsung phones.
The company also loads the Swype keyboard (you can switch back to the regular 'board if you prefer) and an AT&T-exclusive version of Angry Birds with a special hidden level. Samsung Media Hub shares space with U-verse Mobile and U-verse Live TV for media downloads. There's also a free AT&T JustUs app, which turns your phone's wallpaper into a social networking and SMS update wall for your five favorite contacts. Alternatively there's Samsung's own Social Hub system.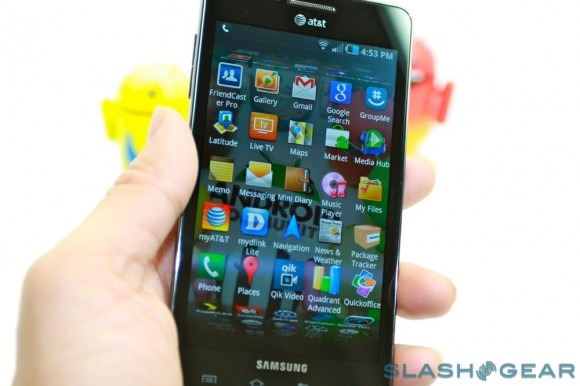 It may not have a dual-core, but the Infuse 4G still moved swiftly. Apps loaded with little in the way of delay, and TouchWiz's graphics introduced no delay. Heavy webpages rendered perhaps a little slower than on the GSII over WiFi, but on the move it's possible that the HSPA+ connectivity would pick up any slack. Still, the Quadrant Advanced benchmarks tell the raw numbers story: the Infuse 4G managed 1166, with an individual CPU score of 1761, while the Galaxy S II came in at 3707 overall and 8485 for CPU.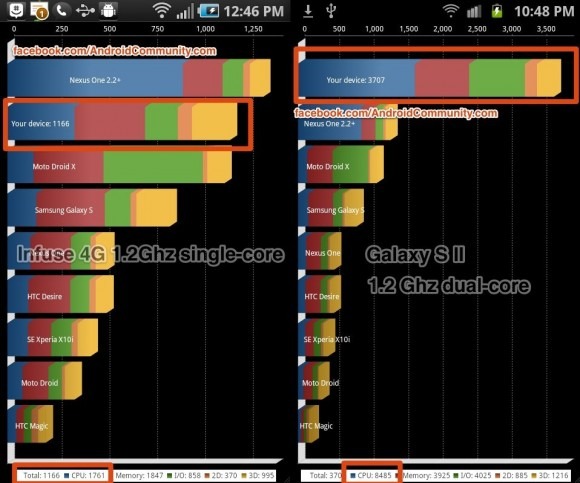 Camera
Samsung's 8-megapixel camera – with autofocus, an LED flash and 720p HD video recording – is one of our favorites at the moment, and the Infuse 4G proved capable of some excellent stills and video. Accurate colors, plenty of detail and speedy autofocus – which can still be used during video recording – add up to a cameraphone, which can comfortably replace your point-and-shoot.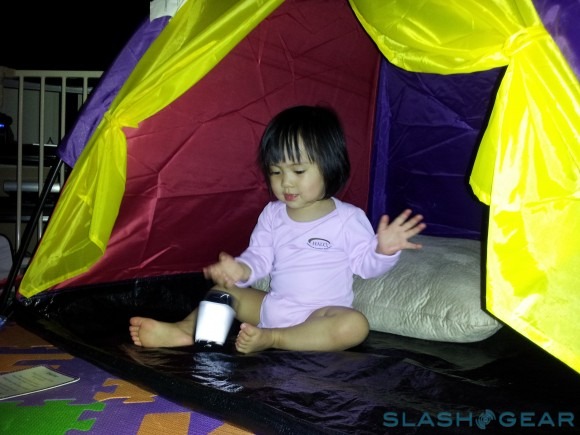 Low-light performance is also strong, though of course there's the LED flash to help you out too. Up front is a 1.3-megapixel camera for video calls.
Phone and Battery
Voice calls on the Infuse 4G were solid if nothing inspiring, though we did find that the broad, long handset could be a little unwieldy held to the side of your head. Not Dell Streak-unwieldy, perhaps, but 4.5-inch phones are certainly near the largest we'd consider daily drivers.
Of course, it's data performance that we were particularly curious about, given that not all of AT&T's 4G-branded phones have quite delivered so far. The Samsung supports category 14 HSDPA – the first AT&T 4G device to do so – and category 6 HSUPA for theoretically maximum downloads of 21.1 Mbps and uploads of 5.76 Mbps.
Unfortunately, that potential is nowhere near reached. On average, the Infuse 4G managed 2806.2 KB/s downloads in our testing, while uploads were a mere 322.3 KB/s. Contrast that with an unlocked European Galaxy S II, also on AT&T, and you can see where our disappointment comes in. In the same locations, the GSII managed an average download speed of 2805.3 Mbps, very slightly less than the Infuse 4G, but an average upload speed of 2052.9 KB/s, over six times as fast. It suggests AT&T is purposefully limiting upload speeds on the Infuse 4G, perhaps to ensure network stability.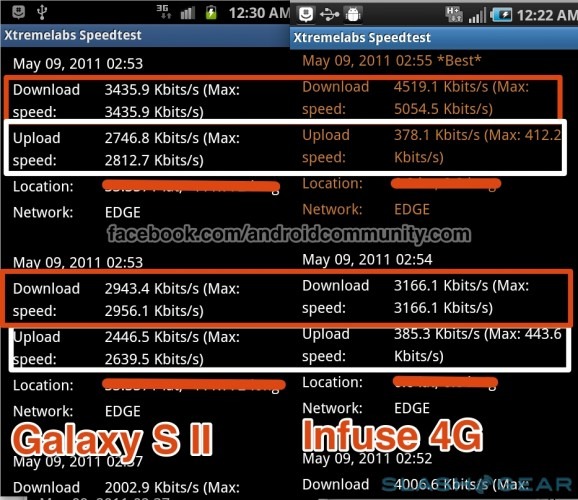 Battery life, meanwhile, proved solid. Samsung is doing some clever work with CPU throttling that not only keeps the Infuse 4G feeling as fast and responsive as you'd hope from a 1.2GHz chip, but making sure runtimes extend to the whole day. The Infuse 4G didn't quite manage the two-day extremes we saw from the Galaxy S II, but even with push-email turned on and regular use it comfortably made it into the evening on a single charge.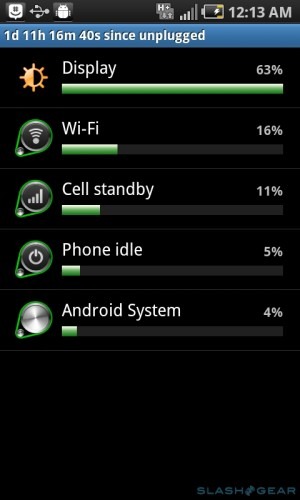 Wrap-Up
The Infuse 4G isn't short on contradictions. Its 4G moniker promises speeds AT&T's HSPA+ can't quite deliver, and while we're used to big-screen phones packing all-round flagship specs, its single-core processor lags behind our current Android favorite, the Galaxy S II. However, it does manage solid battery life and there's no denying the appeal of that amazing Super AMOLED Plus display.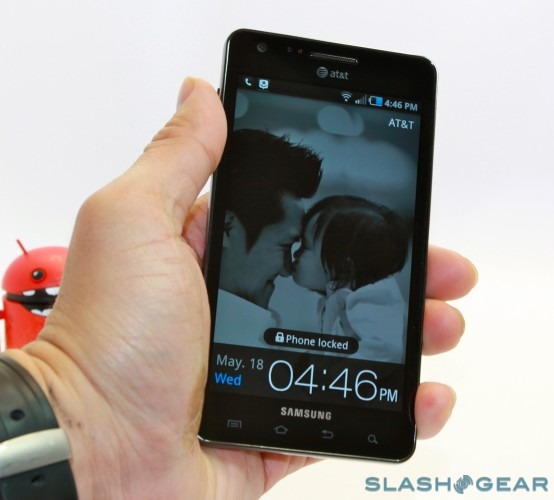 Speed-addicts should probably still look to Verizon's LTE network, which in our experience is just plain faster than AT&T's HSPA+, and the sheer size of the Infuse 4G means we'd recommend handling one in-store since we can imagine many will find it to be too large for comfort. Its $199.99 sticker price matches up with what AT&T asks for the Motorola ATRIX 4G, and while the Infuse 4G lacks the clever – if flawed – keyboard dock and the dual-core processor, its display goes a long way to making up for things. The Samsung Infuse 4G isn't just a big phone: it deserves to be a big seller.
Samsung INFUSE 4G unboxing and quick hands-on
[vms 7a183884c18a67d3aa8d]