InFocus Cuts Wires Between Computers And Projectors For PC And Mac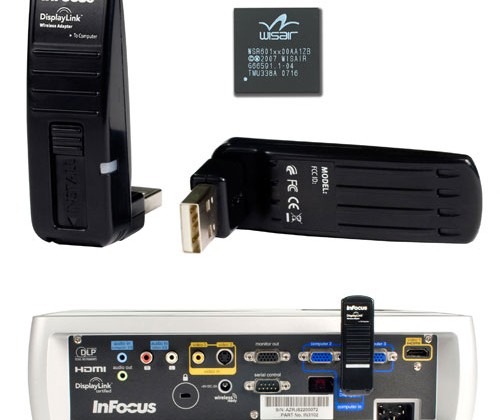 I just mentioned that Wisair has a wireless docking station for Mac computers coming in March. It seems that there will be lots of manufacturers taking advantage of the new Mac support in Wisair hardware. InFocus has announced a new system that lets Macs and PCs connect wirelessly to projectors using Wisair tech.
The system is called the InFocus DisplayLink Wireless system. It includes a USB transmitter that connects to the computer and a USB receiver that plugs into the back of compatible InFocus projectors. The system eliminates the need for different adapters to send video from the MacBook or PC to the projector.
The system lets Mac or PC systems send video and audio to the projector using a single USB port. The device has a wireless range of 30 feet and supports resolutions up to 2048 x 1152 and 720p HD video. I am betting the system uses the same chips inside as the DisplayDock I mentioned before.