Infiniti Pebble Beach Concours d'Elegance 2011 Roundup: JX Concept, Ethera, and IPL G Convertible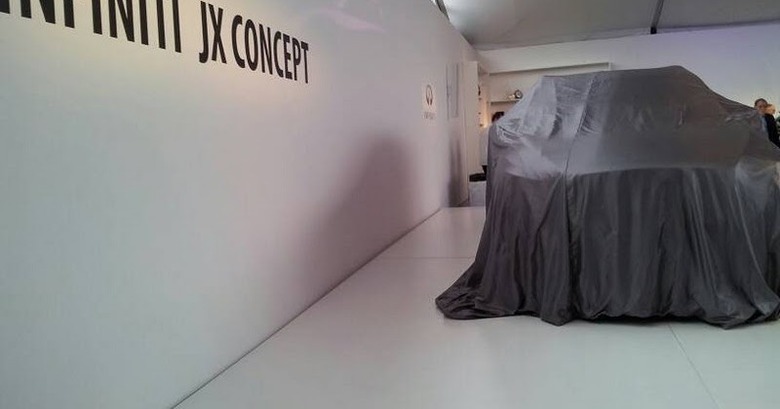 We've been at Pebble Beach Concours d'Elegance, a yearly car show displaying nothing but the newest, the futuristic, and the most classic vehicles, a fantastic couple of days we've been attending courtesy of Infiniti. What we've got here is a roundup of the three fabulous vehicles Infiniti revealed during this event including the JX Concept, the Ethera, and the IPL Convertible. Take an amazing trip with us down the Nissan luxury division Infiniti's newest lineup with design chief Shiro Nakamura, our kind host.
Infiniti JX Concept
First we've got Infiniti's latest luxury crossover, a vehicle set to arrive on the showroom floor inside 2012, the Infiniti JX Concept. This vehicle is a seven-seat, three seat row having, V6 engine running four-wheel or front-wheel drive and a CVT (continuous variable transmission) that's both fuel-efficient and mimics a stepped transmission for sport-tuned performance. This vehicle has Bose audio, Blind Spot Intervention and Backup Collision Intervention, and a whole heck of a lot more. Check it out in our feature post Infini JX Concept Unveiled to the world at Pebble Beach Concours d'Elegance where you'll see additional details and photos galore.
Infiniti Etherea
Infiniti's second work here made its debut back at the 2011 Geneva Motor Show, this being its first public North American outing. Its illuminated grille, lovely C-pillar like the JX Concept, and "four-door coupe" styling makes this vehicle a sight to behold. This smaller vehicle still holds the continuously variable transmission like the JX Concept, only in front wheel drive in this case, with a supercharged 2.5-liter 4-cylinder engine capable of 250 horsepower. All this is paired with an electric motor for all your modern hybrid needs. This vehicle is still only a future potential production model, but what a unique vision it is already – check out our Infiniti Etherea at PebbleBeach Concours d'Elegance post for more details and additional photos.
IPL G Convertible
The final reveal this week by Infiniti is the IPL G Convertible, an open-topped powerhouse with retractable hardtop roof with a 3.7-liter V6 – all this based on the existing Infiniti G37 Convertible. This vehicle of course contains an IPL-tuned engine, exhaust, and suspension as well as a smooth red interior. This vehicle features 19-inch IPL aluminum-alloy wheels, one of many features the Infiniti group notes will very likely reach the final production model next year. This production version will be shown at the LA Auto Show this November. Check out our full post on the vehicle at this event in IPL G Convertible at Pebble Beach Concours d'Elegance 2011 – photos included.
Infiniti Hardtop Convertible G37 Test Drive
Thank You Infiniti
Lastly we'd like to thank Infiniti for hosting SlashGear at the Pebble Beach Concours d'Elegance 2011! We had a wonderful time and look forward to the future!