Incoming Nintendo Switch bundle includes bonus eShop credit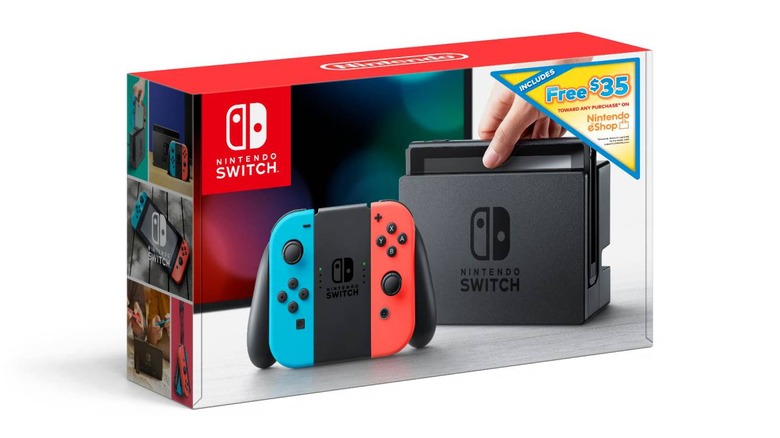 Nintendo fans know that the company doesn't often like to discount consoles and games. The Switch has been no exception to this rule, as Nintendo has been pretty firm at keeping its price at $300. An upcoming Nintendo Switch bundle doesn't do anything to change that, but it does toss in some eShop credit to sweeten the deal.
Later this month, Nintendo will launch a new Switch bundle that comes with neon red and blue Joy-Cons and a $35 eShop credit. Unfortunately, there's no pack-in game to speak of, but depending on what you choose to spend that eShop credit on, you might end up with a couple of games on the house anyway.
The Switch eShop has grown a lot since the console first arrived on the scene. Not only are all of Nintendo's first-party games available through the eShop, but the Switch has also turned into an attractive platform for indie developers. As a result, there are a lot of solid games to spend that eShop credit on, including titles like Celeste, Shovel Knight, Stardew Valley, Into the Breach, and the freshly-released Wargroove.
This bundle seems like it's going to be a limited time thing, as Nintendo says it'll launch on February 15 and only be available while supplies last. Nintendo has run similar promotions like this in the past, and given its hesitance to actually mark hardware down, this is probably the best deal we'll see on the Switch for a while, outside of individual retailers marking down stock on their own.
2019 should be a fairly big year for the Nintendo Switch, as we're expecting new releases from Animal Crossing, Fire Emblem, and Pokemon. In the case of that Pokemon game, it'll be the first time a main series title has released for a home console, so expect to see a lot of excitement leading up to its release. Are you planning to take advantage of this offer from Nintendo? Head down to the comments section and let us know!