Incipio Lloyd microphone for iPod nano 4G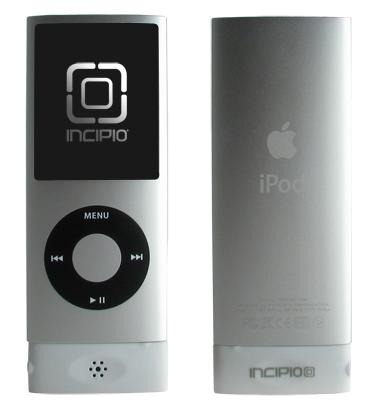 Accessory manufacturer Incipio have announced a microphone attachment for the iPod nano 4G.  Bizarrely named Lloyd, the microphone snaps onto the base of the iPod and allows you to access its onboard sound recorder.  There's also a pass-through headphone connector.
Incipio claim Lloyd is designed to "reduce wind and breath tones", though it's unclear whether that means it has any sort of active noise reduction.  More likely they're referring to the physical design of the microphone itself.
Since it only requires connecting to the headphone socket, not the docking connector, it can be pivoted out of the way when you need to recharge or sync (with the cable; obviously you'd need to take it off to dock the iPod).  The Incipio Lloyd is available now, in black and white, priced at $17.99.
Press Release:
Introducing Lloyd, Incipio's Microphone Adapter for the iPod nano 4G

Incipio introduces Lloyd, a microphone adapter for iPod nano 4G. Lloyd unlocks the powerful voice recording capabilities already installed on the iPod nano 4G. This clean and simple solution allows you to use your nano 4G as a personal assistant and note taker. Lloyd is a state of the art, high quality microphone adapter designed to help reduce wind and breath tones while recording.

Whether conducting an interview, taking lecture notes, or capturing the sounds of life happening around you, simply attach Lloyd to your iPod nano 4G for immediate voice recording capabilities. Lloyd's built-in headphone jack allows you to listen by connecting your headphones or external audio source while on the go. This compact microphone adapter fits easily into any purse or pocket and can even remain on the nano 4G at all times. (Simply rotate to charge)

Features

• High quality microphone

• Designed to reduce wind noise and breath tones

• Built-in headphone jack plugs right into your existing headphones

• Fits perfectly on the bottom of the iPod nano 4G

• Compact and portable

Lloyd can be purchased online for $USD17.99 at www.myIncipio.com. Colors: classic black or soft white.

"We're excited to be offering a unique solution based product that won't break the bank. Lloyd will allow you to use your existing headphones while still being able to capture recordings in a small, clean elegant package.", said Andy Fathollahi, President of Incipio Technologies, Inc.

ABOUT INCIPIO: Continually fusing fashion with function, Incipio has grown to become a leader in the device industry, manufacturing cases and accessories. Founded in 1999 by a group of gadget obsessed designers, Incipio prides itself in designing and developing award winning products that support a wide range of mobile phones, MP3 players, notebook computers and smart phones. Incipio products are available directly online and in dozens of countries around the world with distributors and retailers in the US, Canada, Asia, UK, EU, Australia and Latin America. Incipio Technologies, Inc. is a privately held firm based out of Irvine CA., with offices in Hong Kong and Tennessee.
[via Coolest Gadgets]