iMuffs by Wi-Gear Review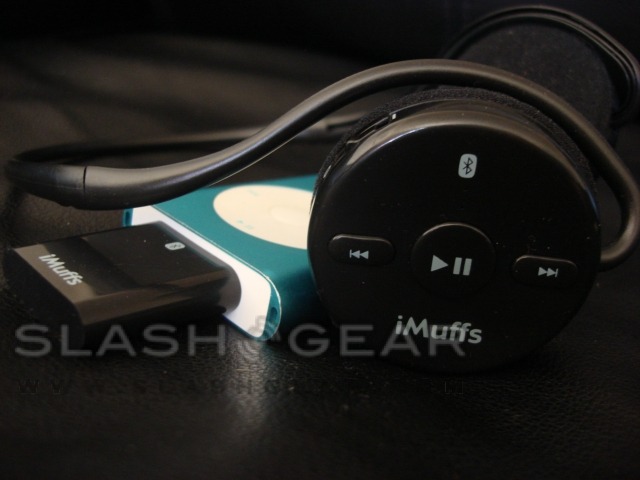 The iMuffs MB210 by Wi-Gear are multi-functional headphones for the iPod Nano, iPod Video (5G), iPod Mini, iPod (3G) and iPod (4G). Wi-Gear has set out to "cut the cord" with this headset. Although not specifically designed for other devices, you can also use these headphones with the iPhone, Bluetooth enabled mobile phones and properly equipped computers.
The behind-the-neck headphones are surprisingly lightweight and flexible to reduce ear fatigue. The iMuffs hold very well whether you're enjoying music around the house or going for a brief jog. The positioning of the headphones gives more direct, clear bass tones with less sound loss. Designed with the right-handed population in mind, the right earpiece has a convenient volume control as well as pause, forward and backward navigation controls.
Powered by a rechargeable lithium polymer 550mAh battery, the iMuffs claim to give users up to 20 hours of continuous playback. We found the actual time to be more in the 16 to 18 hour range, which is still not bad. Recharging the battery is made easy by virtue of the standard micro USB port.
Connecting your iPod is very simple, just plug it in and turn it on. The navigation buttons are very responsive to touch and quite easy to press making it impossible to lay down on your right side while listening to music. The iMuffs also connect to the iPhone as well as other Bluetooth 2.0 enabled mobile phones. The integrated Bluetooth supports the A2DP, AVRCP, HFP and HSP profiles. You can also use this headset to place calls without the use of the handset itself. We were able to use the iPhone via Bluetooth to place calls, but the Bluetooth dongle is needed to actually listen to music.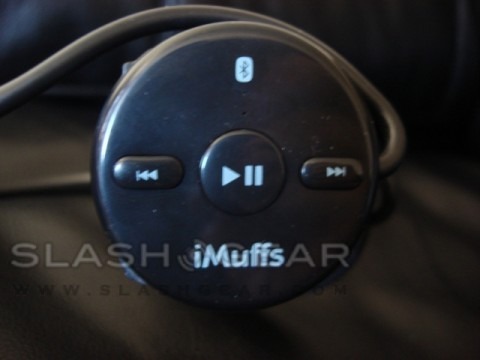 Audio playback as well as call quality are both about average. We were able to listen to music within a close proximity to the actual device with little to no interference. When you go into another room, or put a large object between your and your music device you will almost always here static until in direct sight of your device, but that is to be expected from most Bluetooth devices.
The iMuffs have a 20Hz – 20kHz frequency range, which is much better than a lot of headphones today. However their use of Bluetooth wireless means sound quality undergoes compression and, as such, these aren't the wireless cans for audiophiles (who would do better looking at Sleek Audio's W-1 system).  The headphones reach up to 40 feet away, making them perfect for doing work around the house or hitting the gym. They also use Advanced Audio Distribution Profile (A2DP), allowing incoming calls to interrupt music. Without A2DP users would need two separate headsets, one for music and one for Bluetooth calling. While noise-canceling technology is present in the iMuffs, it is very limited and by no means advanced. In locations where there is moderate background noise, the headphones phase out noise pretty well. However in situations where there are high noise levels, the noise cancelation fails to perform very well.
If the iMuffs sound like a perfect holiday gift, even for yourself, you may now order them directly from Wi-Gear for $149.99.