iMo eye9 USB Touchscreen with Built-In Webcam Announced by MIMO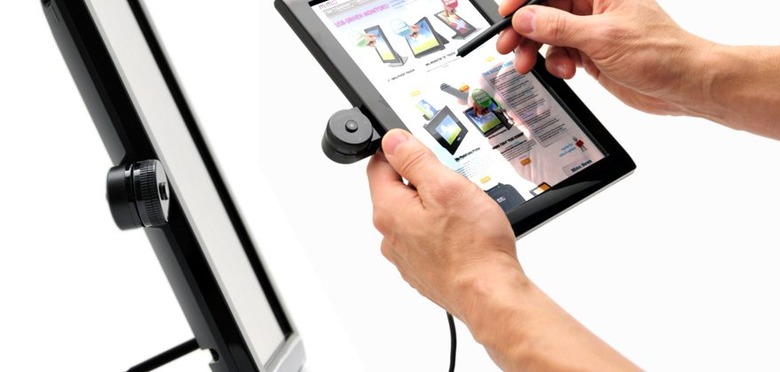 Mimo Mimo here and there, Mimo monitors everywhere! It's a brand new USB monitor from Mimo Monitors! This one's a 9-inch iMo eye9, complete with a resistive touchscreen monitor with 1,024 x 600 resolution, full Mac and PC compatibility, detachable base for portrait or landscape views, and one gigantic freaking webcam with 1.3 megapixel capability.
Then there's a lovely and strange addition: a built-in stylus that doubles as another stand. This amazing amalgamation will be available QUITE soon, November 20th in fact, and it's available for pre-order now. This lady will run you $299.99. Take a peek at the whole press release below:
The Perfect Holiday Accessory: MimoMonitors.com Introduces iMo eye9, 9" USB Touchscreen Mini Monitor with Rotating Webcam

MimoMonitors' latest release unveils a suite of new features including touchscreen and webcam, just in time for the holidays; optional Flex-Arm Mount attaches the monitor to any surface

PRINCETON, N.J., Nov. 15, 2010 /PRNewswire/ — MimoMonitors.com, the leader in USB touchscreen displays, today announced the new iMo eye9 mini-monitor, the perfect, most unique gift for anyone on your list this holiday season. The iMo eye9 extends the viewing "real estate" of both PCs and Macs with touchscreen capability, offering an extra display to de-clutter the desktop and offload popular applications or open web browsers into a dedicated, always-visible window. The monitor features a dual-hinged stand for landscape and portrait viewing, and can be completely detached for tablet style usage. It also includes a rotating 1.3 megapixel webcam to keep users connected with friends and family for the holidays via Skype, Google Chat, and more.

At just 9" wide and 1.5 pounds, iMo eye9 is easy to connect to desktops, laptops, and netbooks, working seamlessly with any PC or Mac application. As with all Mimo monitors, it requires only the included USB connection for full power and functionality. In addition to the dual-hinged stand, the iMo eye9 comes with a secondary easel stand that's perfect for displaying digital pictures during holiday parties and gatherings. The sleek, glossy design looks great on any desk or table, and is fully protected by a snap-on cover.

The iMo eye9 is perfect for:

* SHOPPING: use the extra display to keep online stores in a separate window, actively monitor online auctions for gift purchases, stay on top of holiday shopping sales, and more.

* RETAIL/CORPORATE/INDUSTRIAL: mount anywhere to use as touchscreen controller, play marketing videos, and capture or display data.

* CHATTING: pull IM, chat, and video windows onto the iMo monitor; use the rotating webcam to give long-distance buddies a 360-degree view of holiday celebrations.

* TWEETING: update your Twitter and Facebook status and keep in touch with social media contacts, without cluttering your main screen.

* ENTERTAINING: tap into eye9's sharp resolution and color display for gaming, watching videos, and more.

* PRODUCTIVITY: offload spreadsheets, toolbars, email windows, and much more; touchscreen works with either included stylus or fingertip.

Also available for the iMo eye9: the new iMo Flex-Arm Mount, offering added flexibility to securely mount your mini-monitor onto any horizontal or vertical surface, with the same convenient, dual-hinged design as the iMo eye9 stand.

The iMo eye9 is available now on www.MimoMonitors.com for $229.99, with the Single Flex Mounting Arm can be purchased for $39.99. Available on November 20th; preorders now being taken. Reserve yours today!