Imerj dual-screen SmartPad puts Android on pocketable tablet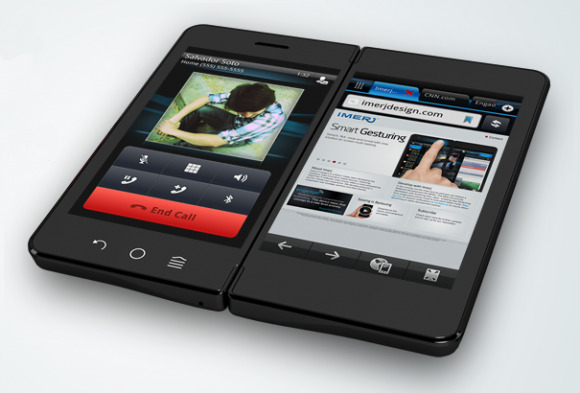 Imerj has shown off its dual-display Android smartpad, a clamshell folding smartphone which opens up to reveal a pair of 4-inch WVGA Super AMOLED touchscreens pushed as closely together as the bezel will allow. Intended to offer the usability of a tablet in a phone form-factor, the unnamed gadget runs a dual-core TI processor paired with 1GB of DDR3 memory and between 32GB and 128GB of internal storage, augmented with a microSD card slot.
AT&T-compatible 3G and the usual connectivity options are onboard, as well as a 1,750 mAh battery; there's also a five-megapixel camera that, thanks to some clever folding, can function both for regular photography and for front-facing vanity shots and video calls. It'll also shoot 720p HD video.
As you'd expect (and, as we've written before, you'd hope), there's been some customization of the Android interface to suit the form-factor. Apps can occupy a single panel or – if compatible – stretch across both; a swipe across the top bezel flips the app between the screens. You can stretch out an app to full-screen with a slow-drag across the bezel, or by physically tilting the phone so that the app expands down all the way. Imerj – and Frog Design, which the company has been working with – have cooked up a custom email app, with the inbox list on one side and individual emails on the other – and a full-screen browser, along with a sizable full-screen QWERTY keyboard.
Engadget scored some playtime with the Imerj prototype, and came away reasonably impressed. The biggest issue is that developers will need to customize their apps in order to make them full-screen compatible, and until there's a sufficient audience it may be tricky convincing them to go to the effort (even though Imerj says it's a minimal tweak). No word on launch details or pricing at this stage.