iMac Pro tipped to feature always-on 'Hey Siri', A10 Fusion chip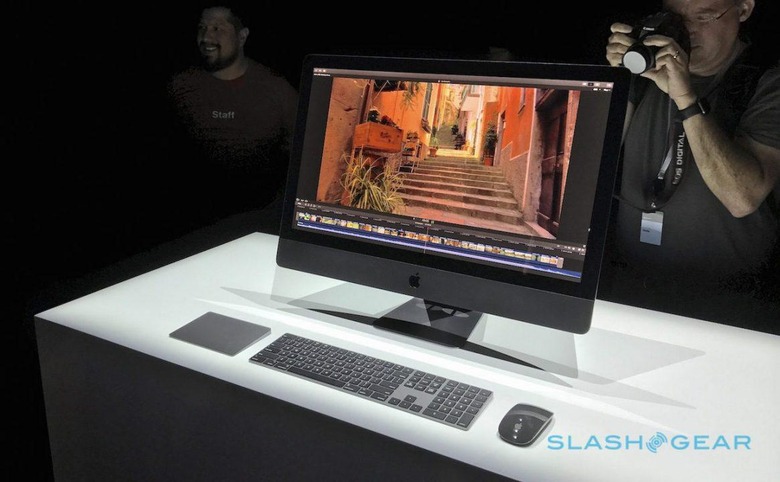 While we don't have an official release date just yet, Apple's new iMac Pro is still due for release before the year's end. With that window quickly closing, a few interesting details about Apple's high-end desktop have begun to surface thanks to developers getting their hands on the BridgeOS 2.0 software. Namely, it appears the iMac Pro will feature an A10 Fusion chip as a co-processor, and that it will be able to support an always-on "Hey Siri" setting.
The BridgeOS code suggests that a version of the iPhone 7's A10 Fusion chip will work alongside the iMac Pro's main Xeon processor. This would mark the first time that one of Apple's own A-series chips is used inside a Mac. It's not completely clear what the A10's full functionality will be, but the current theory is that it will handle the boot and security processes for macOS, and allow Apple tighter control over the OS without making things more difficult for developers and users.
These discoveries were made by Steve Troughton-Smith, Jonathan Levin, and Guilherme Rambo, all developers with a track record of uncovering some of Apple's upcoming hardware features within macOS and iOS betas.
Confirmed: "Hey, Siri" is coming to the Mac pic.twitter.com/Dw9bRAzbxD

— Guilherme Rambo (@_inside) November 18, 2017
Rambo, specifically, has found references to the "Hey Siri" feature coming to macOS, making it the first time the hands-free command comes to the Mac version of the voice assistant. This is tied to the presence of the A10 chip, as it would allow the alway-on functionality thanks to its low power use, as opposed to relying on running the traditional Xeon processor for minimal tasks.
There have been rumors for some time now that Apple has been planning to introduce ARM processors to Macs to handle things like macOS's Power Nap feature, which continues to grab data like updates and email even while the system is in sleep mode. Bringing "Hey Siri" to the iMac Pro could be the first example of this arrangement, as well as function as a test before ARM chips come to other Mac models, especially the MacBook line.
SOURCE Steve Troughton-Smith, Jonathan Levin, Guilherme Rambo