iMac 2013 sees iFixit teardown: SSD slot free for upgrade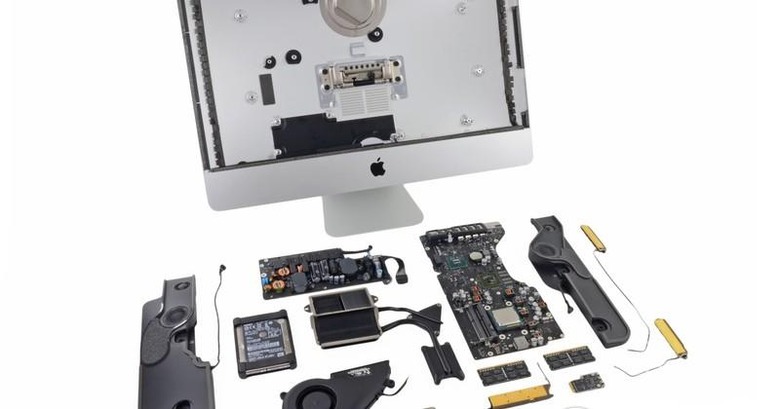 The teardown team at iFixit has taken the time to give a full run-down to the iMac reboot series appearing this week from Apple. What you'll find is a build quite similar to last year's collection of iMac devices, with a few exceptions – beyond that of the obvious upgrades. These models work with new Intel 4th generation Core processors – that's Haswell – along with several display sizes and the ability o work with a Fusion Drive.
You'll be able to find full details on what these machines are working with and what they're capable of in our first 2013 iMac reboot run-down. We'll also be giving this generation's machine a full review down the line, just you wait! For now, you'll have to just live with seeing the innards of these beasts, both the 21.5-inch and 27-inch versions in tune.
These desktop machines work with the option to upgrade to an SSD or Fusion Drive if you wish, or you can stick with a standard spinning hard drive as a base. The one big change found this year inside both models of iMac is an open port inside. This open port allows a user who bought a standard model to add a second hard drive later.
This means you can change your mind and upgrade. That's about the extent of your ability to upgrade and change, on the other hand – you'll find that the iMac CPU is now soldered in on the smaller machine – the 27-inch iMac stays free (no soldering on the CPU, that is).
Did you know the CPU actually wasn't soldered in with older models of this beast? Time to open up the old backbone and get to modding! On your own terms, of course – Apple almost certainly doesn't want you tinkering unless you want it to be at your own risk with your older machine. Stay tuned for the full iMac judgement here on SlashGear sooner than later!
VIA: iFixit (21.5), iFixit (27)