iLuv i168 & i169 HD Radio alarm clocks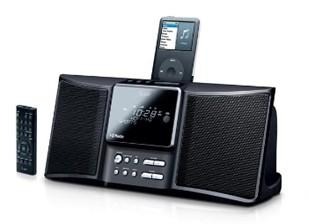 iLuv have announced its first two HD Radio alarm clocks, the i168 and i169, which include stereo speakers, standard AM/FM radio, an auxiliary input and, in the case of the i169, a dock for your iPod.  Both also feature dual alarms, which can rouse you with the radio, tracks from your iPod on the i169, or a boring old buzzer if you're a traditionalist.  The reasonably-sized displays are compatible with HD Radio's text-on-screen feature, that displays station name, track title and artist information.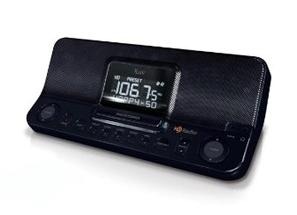 Each radio also features thirty programmable presets, ten for AM and twenty for FM.  The i169 also ships with a remote control, something seemingly absent from the i168.  There are more than 1,600 HD Radio stations at present, and in excess of 750 FM HD2/HD3 multicast stations.
The iLuv i168 is available now, priced at $89.99.  Meanwhile, the iLuv i169 will be released in early May, priced at $169.99.  That seems like quite a premium for basically an added iPod dock, especially when you could simply plug the PMP into the auxilary input (yes, you'd lose the track skip controls, but I guess you have to decide whether doing it manually is worth eighty bucks to you).
Press Release:
iLuv Enters HD Radio Marketplace




iLuv Announces the i169 HD Radio Unit with iPod Dock and Dual Alarm Clock and the i168 HD Radio Unit with Dual Alarm Clock

PORT WASHINGTON, NY – (April 30, 2008) – iLuv, the leader in innovative approaches to audio systems, announced today two new HD Radio units, the i168 and i169. The iLuv i169 HD Radio unit with iPod Dock and Dual Alarm Clock will be available early May 2008 with an MSRP of $169.99 and the i168 HD Radio with Dual Alarm Clock will be available in mid April 2008 with an MSRP of $89.99. Both will be available online at www.i-luv.com as well as JC Penny, Electronics Expo and J&R Music.

"HD Radio technology greatly expands AM and FM broadcasting capabilities with crystal-clear digital sound, text on the screen and hundreds of new digital FM channels," said Howard Kim, iLuv Marketing Manager. "We are pleased to offer this technology in our distinctive products."

i169 HD Radio with iPod Dock and Dual Alarm Clock:

The i169 HD Radio with iPod Dock and Dual Alarm Clock features crystal-clear, digital stereo for FM and AM HD Radio stations and multicast channels. The i169 displays information from the HD Radio station including song name, band, frequency and more. It also receives standard analog AM and FM stereo and includes PLL tuning digital tuning technology. There are 30 programmable presets for radio stations (10 for AM / 20 for FM). The new HD Radio dock also plays and charges your iPod and the digital dual alarm clock function allows you to wake to iPod, AM/FM radio, or buzzer. It also includes an auxiliary line input for any audio devices with 3.5mm jack and remote control. www.i-luv.com

i168 HD Radio Unit with Dual Alarm Clock:

The i168 HD Radio unit with Dual Alarm Clock provides crystal-clear, digital stereo for FM and AM HD Radio stations and multicast channels.. Functions include station and song information display, analog AM and FM stereo reception, PLL tuning digital tuning technology and programmable presets for 30 radio stations (10 for AM / 20 for FM) and an auxiliary line input for any audio devices with 3.5mm jack. The liquid-crystal display (LCD) and dual alarm clock features a digital clock and date display with the option to wake up to AM/FM radio or buzzer and includes a mute function.

About HD Radio Broadcasting:

HD Radio broadcasting is sweeping the country, available to over 80 percent of the population. More than 1,600 AM/FM stations are currently offering crystal-clear, subscription-free digital content, including on-screen text information and more than 750 FM HD2/HD3 multicast stations offering unique formats and content. For a full list of HD Radio stations in your community, please visit www.hdradio.com.

About iLuv:

iLuv (www.i-luv.com) is a brand dedicated to developing unique audio video products and accessories for portable media players and other personal entertainment devices. Three of the company's newest products were recognized as CES Innovations 2008 Design and Engineering Award Honorees. In 2007, iLuv was recognized as CES Innovations Design and Engineering Award Honorees for the i1055 and i603. For more information on iLuv, please visit www.i-luv.com