IKEA smart lighting price confirmed; HomeKit, Google Home, Alexa incoming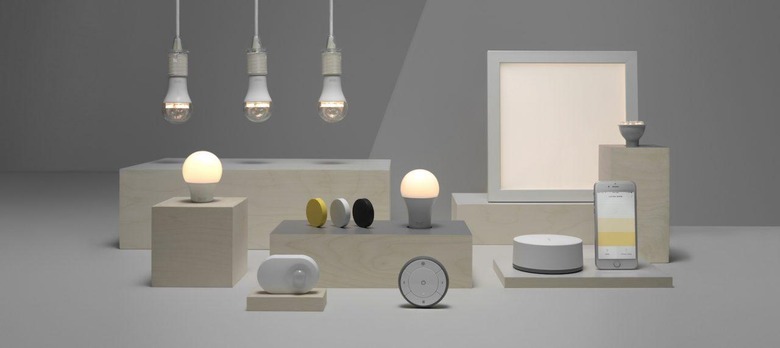 IKEA is continuing its assault on the smart home, with its new TRÅDFRI smart lighting range undercutting stalwarts like Philips Hue when it hits US stores this spring. The popular homewares and furniture company – known as much for its competitive pricing as its flat-pack, self-assembly products – has confirmed US pricing for the connected bulb range. Notably, the TRÅDFRI line-up will support Apple HomeKit, Google Home, and Amazon Alexa support natively.
IKEA took the wraps off the system earlier this year, pitching TRÅDFRI as an affordable way to decorate with light. Unlike Hue, which began with a small range of bulbs several years ago and then gradually expanded on that with accessories, IKEA isn't holding back. Instead, TRÅDFRI is an entire system of bulbs, switches, dimmers, and sensors.
At its core is the TRÅDFRI LED dimmable bulb. That'll be offered in E26 form capable of 950 lumens, for $24.99, or in E12 form capable of 400 lumens, for $19.99. Both will output white spectrum/opal light. A GU10 version, with 400 lumens, for flush-installation lights will be $19.99.
There'll be kits, too. The most basic will be a single TRÅDFRI bulb and a puck-like remote that controls power and dimming, that can cling magnetically to a wall or be carried around; it'll be $19.99. A second kit, for $29.99, upgrades the remote to a more comprehensive version; that has control over three steps of color temperature – from cold to warm – plus dimming.
The TRÅDFRI bulbs will work without a hub, though IKEA has one of those too. The TRÅDFRI gateway kit, at $79.99, includes two bulbs, the more advanced remote, and a puck-like hub. It'll work with an iOS and Android app, with custom control over default room settings, along with convenience features like timers. Interestingly, you can't connect bulbs directly to the gateway; instead, it works via the remote control.
As for HomeKit, Google Home, and Alexa support, that's mentioned in IKEA's Swedish press release, MacRumors spotted. It's unstated, though it seems almost certain that you'll need the gateway in order to use the smart home platforms, since IKEA will push out an update this Spring and Summer to enable it.
A motion sensor kit will, at $24.99, comprise a bulb and a small motion-tracking dongle. It can turn the lights on when movement is detected, and then shut them off again, either after one, five, or ten minutes of no activity. The remote control will be sold separately, for $12.99, too; it can control up to ten bulbs simultaneously, even without the gateway kit, and has a battery which IKEA says should last for up to two years.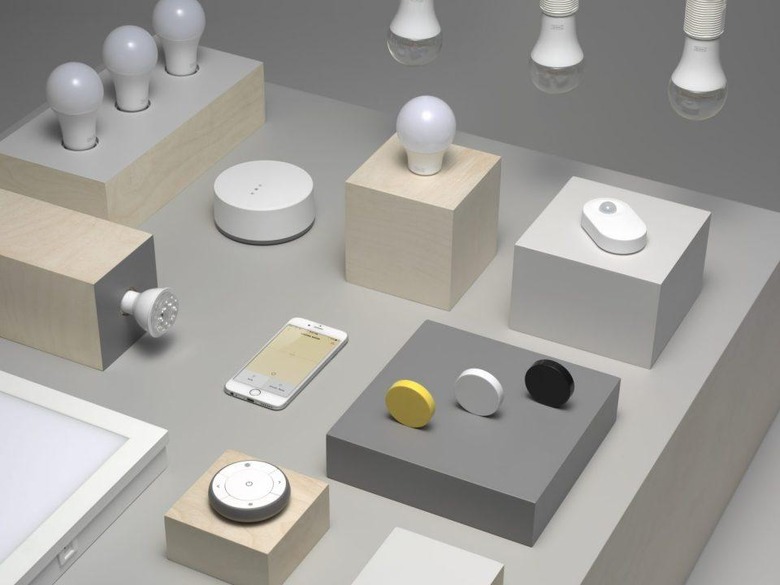 IKEA will also have a range of FLOALT, SURTE, and JORMLIEN LED light panels. These can be built into walls or used instead of doors on select IKEA cabinets, and remotely controlled and dimmed. They'll hit stores in the late Summer of 2017, with pricing to be confirmed.
It's worth noting that, though IKEA's line-up does undercut Hue in price, Philips' system still has an edge if you want color. So far, none of the TRÅDFRI bulbs offer anything other than white lighting. Even so, it's not hard to be impressed by just how affordable the IKEA system
MORE IKEA