Ikea joins the smart home biz with Trådfri connected lights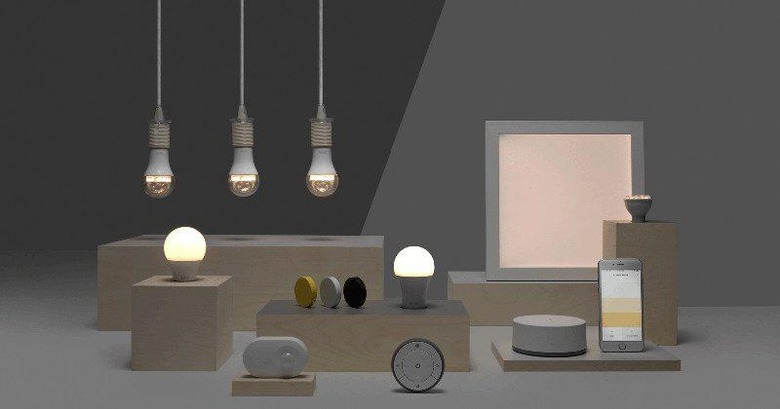 Although not exactly present in all corners of the globe, the name Ikea is well-known for ready-to-assemble furniture, and sometimes overpriced products. It isn't, however, known for being on the cutting edge of technology. Although it has dabbled a bit in augmented reality and wireless charging, it has yet to jump on the home automation market. It isn't jumping yet, but it is now at least dipping its toes in that still young segment. And like any budding smart home product, it's Trådfri line is starting with the simplest one of all: connected lights.
Don't worry, Ikea isn't inventing yet another smart home protocol. Trådfri, which is Swedish for "wireless", fortunately uses a more established ZigBee Light Link technology, the same technology used by the likes of Philips Hue and others. It's one of the many standards in the market today so it's at least reassuring that there's a possibility Trådfri might work with other smart light bulbs.
The Ikea Trådfri system is, at its core, composed of three parts. First is the Internet gateway that allows all the magic to happen. Then there are the dimmable LED bulbs that have three temperatures of 2200K, 2700K, and 4000K. And finally, there's a remote that lets you feel like a wizard. That set, which alrady includes two bulbs, goes for only 749 SEK, roughly $85.
Those, however, aren't the only members of the Trådfri family. Another interesting though almost out of place item is a dimmer switch. This puck-like device is supposedly motion-controlled, which dims lights just by rolling it in your hand. Which can make for some rather interesting scenarios, as Ikea's add seems to imply.
This is still a small but significant step for Ikea and fans will probably hope the story doesn't end there. For now, the Ikea Trådfri is available from the company's Swedish catalog only and are set to land in actual stores on 31st March. Global rollout, however, is still uncertain.
VIA: