iHome Shows Off Portable Speaker with Apple's AirPlay Built-In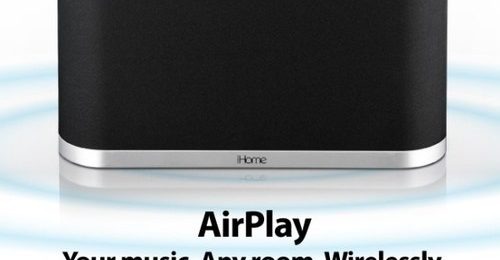 A company like iHome is probably supposed to showcase something that Apple shows off only days before. The company makes a killing off creating some of the best accessories for Apple's line-up of mobile media devices, so why shouldn't they showcase a brand new portable speaker, featuring Apple's just-announced AirPlay feature?
This is the first speaker to feature the wireless media feature. The new feature will be made ready by the release of iOS 4.2, which is set to hit the iPad, and other iDevices, in November this year. As you can tell from the picture, it's not a complicated piece of equipment. A single-piece design, the speaker is specifically manufactured to accept audio input over a WiFi connection. What you'll also notice is that the iHome speaker doesn't have a dock of any kind. It's meant to proactively promote the WiFi streaming, from your iPad, iPod Touch, or iPhone.
It also has a built-in battery, so that means that at particular points in the day, like when you're not charging it some how, it will be completely wireless. That's probably where that "portable" aspect comes from. Unfortunately, iHome isn't saying when the speaker will be released, or how much it will cost. They do say that it will be ready to buy by the holidays, though, so that's good. It probably won't be the cheapest speaker out there, but if you're looking for that wireless home, this is one step towards that goal.
[via iPodnn]