Apple iOS 4.2 Announced and Shown Off, Coming Later This Year to iPad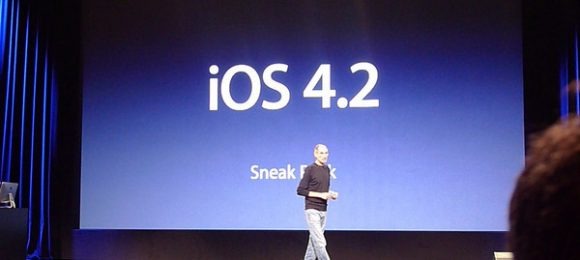 We just told you about iOS 4.1, which is set to launch for the iPhone and iPod Touch next week, but what about the iPad? Well, thankfully Steve Jobs knows that we've been waiting for that, too, as he has just pulled the curtain off the updated software for the iOS mobile Operating System. Unlike iOS 4.1, this is meant primarily for one device: the iPad, and while it's bringing plenty of iOS 4.1 features, it's also adding a few goodies, too.
Game Center and HDR photos is coming to the iPad, too, but you're also getting wireless printing. Yes, you read that right. It's just going to be part of the Operating System, now. It's called AirPlay, and it allows you to register multiple printers for one iPad. It's a new option in the Tools menu within Pages, and you just choose a printer, and it starts printing.
The iPad is also getting multitasking later this year, so that's great news for all the tablet users out there who've been waiting for that feature ever since iOS 4 was announced. It still uses the multitasking bar, though, so that's either a winner moment for you, or something you wish had been tweaked. The update itself is due out in November, and it will be a free software upgrade for the tablet.
Be sure to watch http://live.slahsgear.com for all the latest information, as it happens.