iGoogle Web portal permanently shut down after eight years of service

Just as we reported it vowing 16 months ago, Google today has pulled the plug on iGoogle and buried it without a funeral. The Web portal that let users customize a unique start page for the Web with RSS feeds and widgets has been permanently shut down after eight years of service. Google made no official announcement today, opting to let die-hard iGoogle users mourn on their own terms.
iGoogle's URL google.com/ig now redirects to google.com, Google's main search page. The dearly departed functioned as a search page plus Everything Else. You could load your email, favorite blogs, weather widget, Snakey game, or almost any other kind of Google-approved content into a single page and use it as a launch pad for exploring the Internet. It was chiefly designed for use as a browser homepage, but you could navigate to it from anywhere using your Google ID. You could also search Google through it.
Originally launched in May 2005, iGoogle hit 7.1 million users by early 2007. By the end of that year, it was available in 42 languages in more than 70 country domains. By early 2008, it represented 20% of Google's search page traffic. By 2012, however, the exploding mobile device market and the company's new focus on Google+ was undermining the fundamental need for a Web portal like iGoogle, and the company placed the product in hospice care.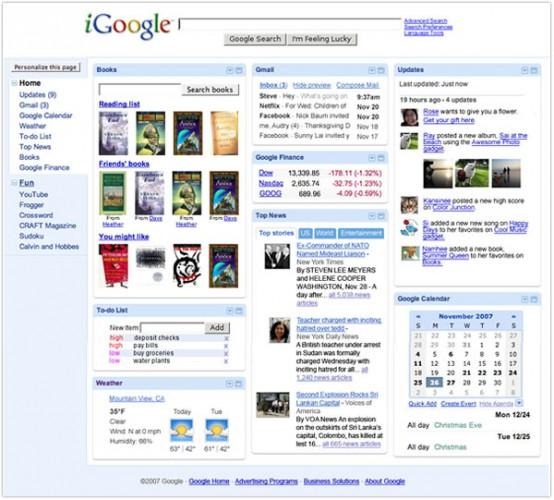 Google did post a small help page answering the question "What happened to iGoogle?" and breaking the sad news for the bereaved:
"We originally launched iGoogle in 2005 before anyone could fully imagine the ways that today's web and mobile apps would put personalized, real-time information at your fingertips," the obscurely posted death notice reads. "With modern apps that run on platforms like Chrome and Android, the need for something like iGoogle has eroded over time."
The company assures users their personal data lives on in such services as Gmail, Calendar, Finance, Drive, Bookmarks, and Tasks. It offers a link to some alternative Web portal services via alternativeTo, but something tells us nothing can ever truly replace clunky old iGoogle. SlashGear offers our condolences to all who mourn.
SOURCE: The Next Web