Ignore the design: Tesla's Cybertruck is oddly practical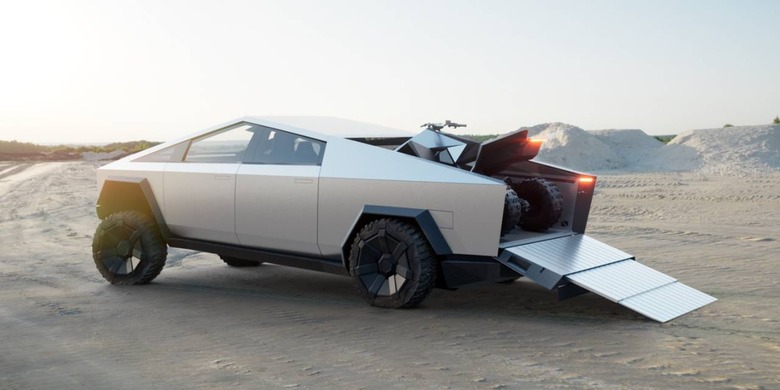 The Tesla Cybertruck may look jaw-droppingly odd, but its angular, stealth-bomber-inspired aesthetic actually hides some seriously clever packaging details. Unveiled today by a giggling Elon Musk, the Cybertruck turned out to be even more challenging in its design than the billionaire CEO warned us it would be.
Indeed, there's no chance of you mistaking the pickup for any other truck on the road. The cab-forward design is like a stainless steel wedge, all sharp angles and crisp surfaces. According to Tesla, the bodywork is bulletproof and the armored glass should withstand an inadvertent smack with a rogue tool.
Those bold surfaces hide a multitude of practicality, though. For a start there's up to 3,500 pounds of payload capacity in the 6.5 foot bed (which Tesla is calling the "Vault"); air suspension can raise or lower it by up to four inches. A slide-down tonneau cover can lock in place, securing your tools or other equipment from potential theft.
Then there's 100 cubic feet of exterior cargo space, Tesla says, shared variously across the under-bed, the "frunk" front trunk, and in the sail-pillars, the sloping sections just aft of the cab. We've seen pickups with novel storage before – Rivian's body-spanning cargo tunnel comes to mind – but Tesla really is making the most of its flat surfaces.
Inside, there's seating for six. More storage can be found under the rear bench. The bed can also be used to store the Cyberquad, the electric ATV that Tesla made specially to go with the pickup. While it's parked in there, it can charge up via the 110/240V outlets. There's also an air compressor too, taking advantage of the same system that keeps the air suspension going.
As for towing, the Cybertruck can handle up to 14,000 pounds, Tesla says. That'll of course depend on the specific model you pick. Initially there'll be three to choose between.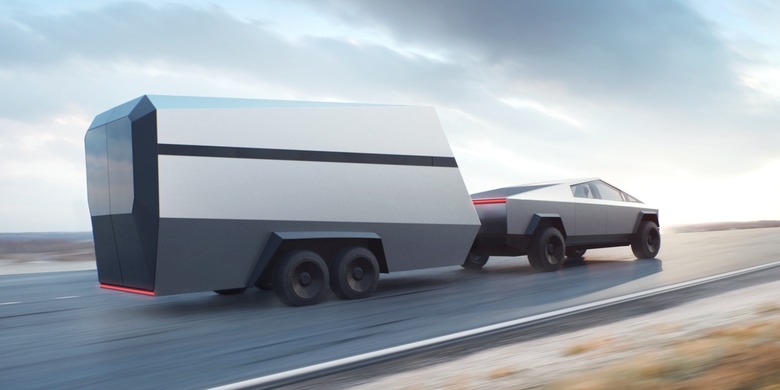 The $39,900 Single Motor RWD Cybertruck has a 250+ mile range, 7,500 pounds of towing capacity, and a sub-6.5 second 0-60 mph time. Step up to the Dual Motor AWD Cybertruck, for $49,900, and you're looking at 300+ miles of range, 10,000 pounds of towing capacity, and under 4.5 seconds to 60 mph.
Finally, the Tri Motor AWD Cybertruck is the most capable. It should get 500+ miles of range and packs that maximum 14,000 pound towing capacity. 0-60 mph comes in at under 2.9 seconds, which could put some supercars to shame.
Even the charging is more practical, supporting over 250 kW chargers across Tesla's Supercharger network. You can control that via the Tesla app, or using the 17-inch touchscreen that dominates the Cybertruck's dashboard. Reservations are being accepted now, and Tesla says that full orders should start being taken late in 2021. That'll be for the single motor rear-wheel drive and the dual motor AWD versions initially; the Tri Motor AWD Cybertruck should follow on in late 2022.