iFrogz Boost NearField Audio speaker Review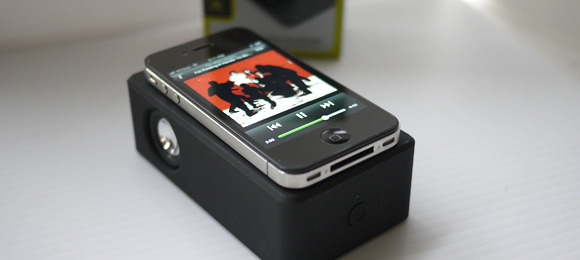 This little piece of hardware is a fabulous wonder of the modern wireless age – and it doesn't just work for iPhone, it works for any tiny speaker that wants to be amplified! The iFrogz Boost NearField Audio speaker is a little brick – it weights in at next to nothing, is made mostly of soft, rubbery plastic on the outside, has a few bumpers on the bottom to hold it tight to your table. This device will blast out audio at high levels without any more effort on your part than placing the speaker portion of your smartphone near the power button side of the device. It's really quite magical – as you'll see here in a moment.
This device comes in a simple cardboard box and you get the dock only. The dock is just a bit too large to fit in your pocket, but certainly not too big to fit in your purse or backpack. It's got two relatively unprotected speakers, one on each side, with a power button on the front with a single light that'll show you the status of the device. Other than the three AA battery slot below, and the two ports in the back for auxiliary line-in and optional DC power via microUSB, there's nothing more to this device.
It's what's inside that counts. Inside is iFrogz implementation of NearField Audio, this allowing you to simply place your device down and have its sound amplified through the device electronically – have a peek at the hands-on video above to see what it's all about. This device is powered either by the three AA batteries you'll be placing yourself inside or by a microUSB cord you, also, will be supplying.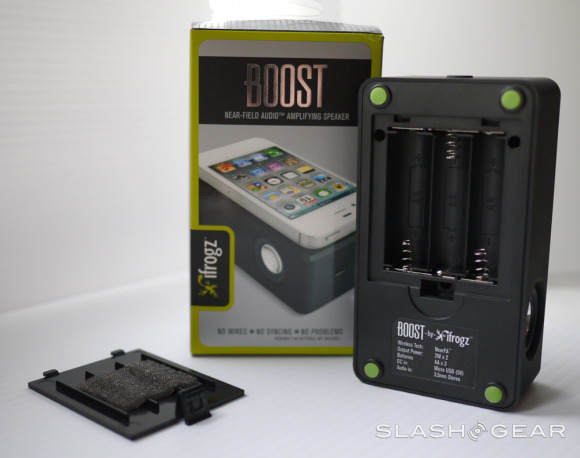 The bits that you need to supply allow this device to cost an undeniably inexpensive [$39.99 from iFrogz online store]. It's worth that price just to experience this strange new technology for the first time – and more than that, it'll work for hours, days, and months on standby with only the three AA batteries you slap into it right out of the box! Worth it.