IFA 2007 - Canon boost Digital IXUS range to 12.1-megapixels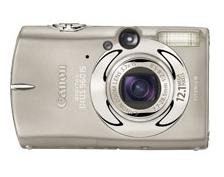 Proving that you don't need to pass on features to be fashionable, Canon launched two new models in their perennially popular IXUS range at IFA 2007 today.  The 960 IS and 860 IS both continue the design ethos that started way back with the original APS IXUS, only packing even more user-friendly features such as red-eye correction and, in the case of the 960 IS, a 12.1 megapixel CCD.
In addition, the 960 IS boasts a 3.7x optical zoom with optical image stabilizer, ISO 1600 and auto ISO shift for fast-moving and low-light images, and Canon's clever DIGIC III face detection AF/AE/FE system that promises to make even casual snaps picture-perfect.  All that in a titanium body with a 2.5-inch PureColor LCD and Touch Control Dial.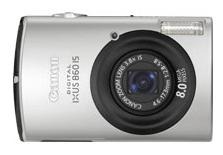 Meanwhile, the 860 IS might "make do" with an 8-megapixel CCD, but it actually has a bigger LCD – at 3-inches – and the same ISO 1600/auto ISO shift support.  DIGIC III is there too, and the lens is slightly different being a 3.8x wide-angle.
Both shoot movies at VGA quality (the 960 IS adds XGA too) and have a variety of preset modes for scenarios like beach and portrait shots.  There's also a pre- and post-shot effects processor that can be applied either during or after a shot is fired off.
Both the IXUS 860 IS and 960 IS are available now.