Ideum unveils 65-inch multitouch 3D wall display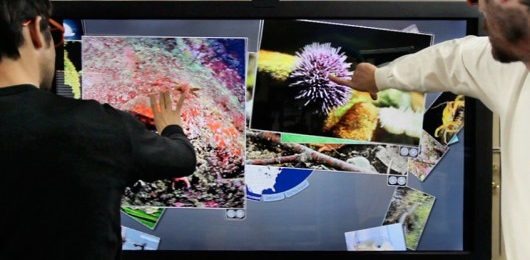 We've been seeing a lot of massive multitouch displays recently, from Samsung's SUR40 40-inch tabletop model with Microsoft's Surface 2.0 to HP's 132-inch VantagePoint system, and now Ideum is releasing its 65-inch MT65 Presenter. The Ideum MT65 Presenter features a multitouch screen with an integrated computer, built-in audio, and webcam all packed into a 4-inch deep hardened aluminum frame.
The MT65 Presenter display is Full HD with 1920 x 1080 pixel resolution, supports 3D, and offers up to 32 simultaneous touch points. The LED backlit screen is rated for 50,000 hours and is protected by 3mm thick ultra-clear tempered glass.
Inside, the MT65 Presenter packs a quad-core Intel Core i7 2720QM processor with 8GB of RAM, 256GB SATA SSD, and a discrete GeForce GTX 460 GPU. It also has built-in WiFi, Bluetooth, and Ethernet connectivity along with stereo speakers, stereo microphone, an HD webcam with Carl Zeiss optics, and HDMI port.
Although the MT65 Presenter would be awesome to have in your home, at $17,500 it's obviously priced for commercial use such as in museums or other public spaces. It will be available with either Windows 7 Professional 64-bit or Linux starting in March.
[via GizMag]