Samsung SUR40 with Microsoft Surface 2.0 now shipping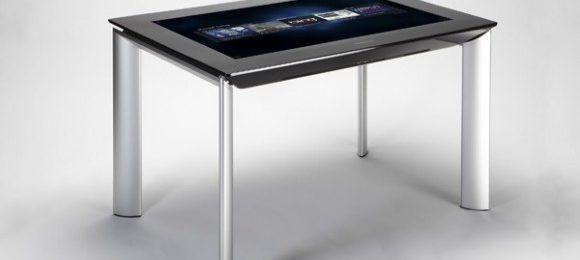 The Samsung SUR40 multitouch table, first unveiled last CES and once again this past CES 2012, is now finally ready to ship. The tabletop features a massive 40-inch Full HD 1080p LCD display protected by perhaps the world's largest piece of Gorilla Glass. It runs Microsoft's second-generation platform called Surface 2.0 along with Microsoft's PixelSense touchscreen technology.
The SUR40 with Surface 2.0 tabletop can be placed horizontally on table legs or mounted vertically on a wall as it no longer uses cameras underneath the table for recognizing finger-touches. Instead, it now uses PixelSense, which allows more than 50 simultaneous touch-points on the surface.
Inside, the table is powered by an AMD-based Windows 7 machine running Microsoft's Surface 2.0 platform. The Surface 2.0 SDK will allow developers to create custom apps for the table, although not many folks will be able to afford the table itself, which is priced starting at $8,400 for the tabletop only and $9,049 if purchased with a matching stand. Shipping begins this month.
[via TechCrunch]