Ideum MT2 Multitouch Table beats Microsoft Surface in size & resolution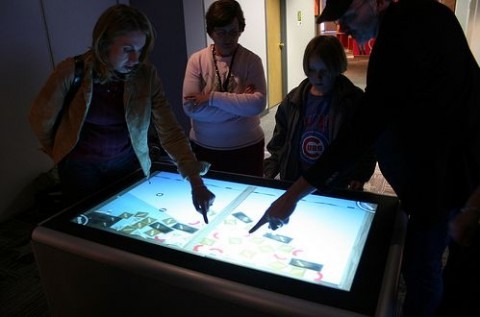 Exhibit and media design firm Ideum have cocked a snook at Microsoft with the launch of their MT2 Table, a multitouch-table which, at 50-inches running at 1280 x 720, is both larger and higher resolution than Microsoft's Surface.  The MT2 Table, which can respond to multiple points of contact across the display and recognize gestures, is intended for museum use, and as such has an aircraft-grade aluminum frame and thick tempered glass top.  Underneath there's a 2100 ANSI projector with a 2000:1 contrast ratio.
Video demo of the Ideum MT2 Table after the cut
Ideum have partnered with Swedish firm Natural User Interface (NUI) for the MT2 Table's software.  In its most basic form it comes with the Snowflake Software gesture recognition multi-touch environment, together with a media viewer (for images and video), basic drawing app and a 3D model viewer, plus a multitouch-enabled version of Google Earth.  However Snowflake also allows developers to create their own applications with Flash, C/C++/C#, Java, Python, and other programming languages.
The first MT2 Tables to be installed will be at The Don Harrington Discovery Center in Amarillo, Texas and Vulcan Park and Museum in Birmingham, Alabama, with Ideum working on custom apps for each.  No word on pricing, though I'm sure if you ask nicely enough they'll build you one for your lounge.
Press Release:
Ideum Releases Ruggedized High-Resolution Multi-touch Table For Museums

CORRALES, New Mexico (February 4, 2009) Ideum, an exhibit and media design firm, has announced the release of the first ruggedized multi-touch, multi-user table built specifically for museums.

The MT Table supports multi-touch and multi-user interactions. It has a bright 50" (diagonal) surface with a high-resolution (1280 x 720) display which is higher than Microsoft's Surface multi-touch table. The large display also makes it easier to facilitate multiple simultaneous visitors interacting with computer programs through the use of multi-touch gestures. Visitors can use hand gestures to manipulate images or media or to interact with computer-based programs.

"We've been working with museums for a decade and we wanted to create a platform where visitors could interact with museum content, programs and one another in new and meaningful ways," said Jim Spadaccini, Director of Ideum. "The intuitive nature of multi-touch interaction, the large surface and low table height: all of these factors contribute to the visitors experience. The table is both a physical and social platform, it does what the traditional computer kiosk cannot do."

The table, which stands 31" tall with heavy duty locking casters, is wheel-chair accessible and meets standard ADA requirements for height; an important consideration for museums. The table is automated and can safely shut itself down when the museum closes for the day.

The MT is also incredibly durable with a frame built of aircraft-grade aluminum and a surface of thick, tempered glass. All of the components of the MT Table are industrial grade and built to withstand the demands of busy museums, including hands-on science centers.

Ideum has partnered with Natural User Interface (NUI), a Swedish technology company specializing in multi-touch solutions to provide the base software package. Each table comes with NUI's Snowflake Software a fast and reliable gesture recognition multi-touch software package. This software allows developers to create their own applications with Flash, C/C++/C#, Java, Python, and other programming languages.

Snowflake also comes with a set of basic applications: Viewer (media viewer with support for image and video media types), Draw (basic drawing application), 3D model viewer (.3ds and .obj file format support) and others. The MT table also includes TouchEarth (Google Earth with a multitouch interface).

Ideum is currently developing custom software for The Don Harrington Discovery Center in Amarillo, Texas and Vulcan Park and Museum in Birmingham, Alabama. These museums will have the first two tables, with installations scheduled for March. The installation for Vulcan Park and Museum will include two multi-touch kiosks making it one of the first permanent exhibits in the world to use multi-touch technology throughout the gallery space.

Ideum develops computer-based exhibits and installations for museums across North America. Since the firm was founded in 1999, it has worked on over 70 projects that have explored a variety of science, history, art, and cultural topics. Ideum-developed exhibits and Websites have won numerous awards over the years including; the American Association of Museums' MUSE Awards, the Webby Awards, the Pirelli International Multimedia Awards, the Museums and the Web Conference "Best of the Web," and other industry awards. To learn more, visit: www.ideum.com