IDC shows ASUS and Samsung skyrocketing in tablet sales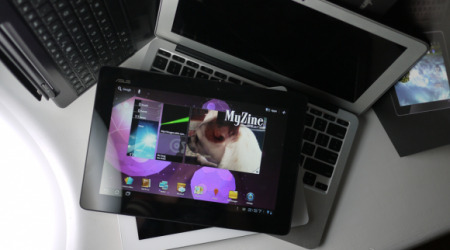 Though Apple's iPad lineup remains undeniably dominant in tablet PCs globally with a beastly 43.6% market share, IDC is showing that this Q4 2012 both Samsung and ASUS have bashed their previous records for sales to bits. Samsung's Q4 shipments hit 7.9 million units in 2012 while one year before their quarter only hit 2.2 million – that's a 263% jump in unit sales. ASUS also had a mighty jump with 402% more units sold this quarter compared to one year ago, with 3.1 million compared to just 600,000 in Q4 2011.
The IDC study showing worldwide tablet shipments show that the tablet industry in general is growing by leaps and bounds, with Amazon coming in at 6 million units sold and third on the list and Barnes & Noble being the only company in the top 5 to have had less of an impact on the market than it did Q4 one year ago. Taking all vendors into account, 52.5 million tablets were shown as shipped in Q4 2012, this showing a healthy 75.3% growth year over year.
It's worth noting that the results the IDC shows are not exact, with some estimates coming before financial earnings reports are released officially. The data being distributed today is what the group calls "preliminary data" and is part of the IDC Worldwide Quarterly Tablet Tracker for January 31, 2013. Another bit of information that may not be clear right out of the barrel is the fact that tablet sales include not just mobile operating systems like iOS and Android, but Windows RT and Windows 8 as well.
Barnes & Noble's unit sales went down this quarter compared to one year ago, but their market share increased. ASUS' market share went down through the number of tablets it sold went up over 400%. Wacky things are happening in this market right this minute, that's for certain. Now we go about tracking how the tablet market is swallowing up the PC market and we really see some strange ideas.
According to d Tom Mainelli, research director, Tablets, at IDC, the PC market "saw shipments decline during the quarter for the first time in more than five years." In contrast, as you can see above, tablets are very much on the rise with no end in sight (so to speak). Keep your eye to the analytics, folks, things are getting flatter by the quarter.
[via IDC]