IDC: as Apple surges, Samsung falls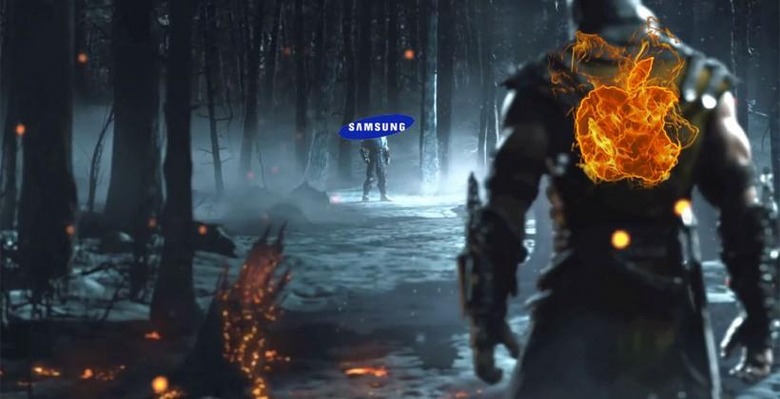 Big changes are in the wings this year as IDC reports big movements in smartphone shipments for the fourth quarter of last year. In their report of the last three months of 2014, Samsung's year-over-year change was in the negative – the only company in the negative in the top five companies on IDC's chart. On the other hand, Samsung does remain in the top spot for smartphone shipments worldwide, followed closely by Apple. Apple appears to be closing in on Samsung in a big way, with less than a point difference in worldwide smartphone shipments.
A friendly reminder here – IDC tracks shipments, not sales. This is the amount of phone units shipped from the manufacturer to stores, not the amount of phones that've been purchased by end-consumers. You can glean some information on how well a company is doing by its shipments, but it's no place to stop with final judgement.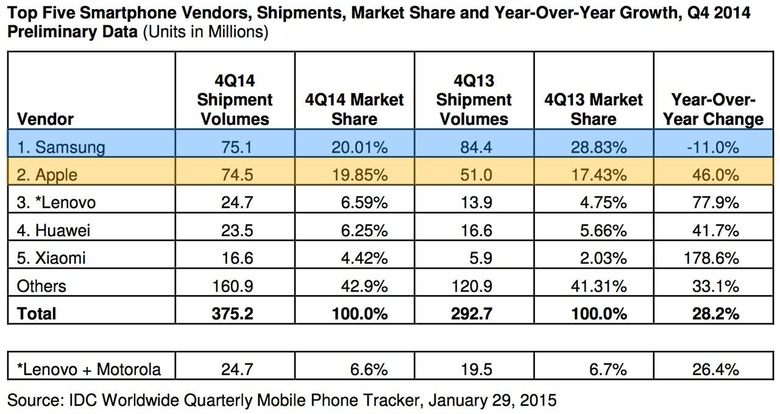 The numbers here suggest that Apple is ramping up. While a year-over-year change of 46% can be attributed somewhat to Apple releasing two new phones this year rather than one, Apple's numbers compared to Samsung's cannot be denied as a sign of the times.
Apple's shipment volumes nearly reached Samsung's in the fourth quarter of 2014. That's unheard of.
Samsung has notoriously been a shipper of massive amounts of phones over the past several years – since the start of the smartphone. Even one year ago, according to IDC, Samsung shipped 84.4 million devices while Apple shipped just 51 million.
Apple is closing in on Samsung in a big way with 74.5 million devices shipped compared to Samsung's 75.1 million shipped this past quarter.
Meanwhile Lenovo, Huawei, and Xiaomi are doing battle – mostly in China – with 24.7 million, 23.5 million, and 16.6 million units shipped respectively. Xiaomi saw the most growth with a 178.6% change year-over-year, while Lenovo's growth cannot be denied at 77.9% year-over-year.
Lenovo also brought abroad Motorola this year. Motorola is so tiny on a global scale that Lenovo only gains 0.01% in quarterly market share.
This could have to do with Motorola transitioning from Google to Lenovo, of course, with fewer phones being shipped also because of their transition to a company that simply concentrates on fewer devices.