IDC: Android tablets creep up on iPad as market slows

Since it's been over a quarter since Apple released their last iPad, IDC worldwide tablet shipment numbers have shown not just that Android tablets have been gaining popularity, but that the whole market has slipped significantly. With a near 10% (9.7% to be precise) in worldwide tablet shipments this 2Q of 2013 compared to the first quarter of this year, it would seem at first that interest wanes in this segment as a whole. Compared to this same quarter one year ago, on the other hand, there's been growth – rather impressive growth, at that.
While the second quarter of 2012 saw worldwide tablet shipments at 28.3 million units, the same quarter this year jumped to 45.1 million. The biggest individual jump by a brand in this timeframe has been Samsung, hitting just 2.1 million units in last year's second quarter, blowing up to 8.1 million here in Q2 of 2013.
While that's not the biggest jump percentage-wise, it's the largest growth in actual units shipped of any one company selling tablets. Meanwhile Apple saw a 14.1% drop in sales when you compare last year's Q2 to this year's Q2, sales ringing in at 17 million and 14.6 million units respectively.
Coming up in third place is ASUS with 2 million units shipped. That's a 120.3% growth over last year's Q2 with just 0.9 million units shipped by the company responsible for the Google Nexus 7. Even Lenovo and Acer are growing – slowly – with 1.5 and 1.4 million units sold respectively, both of them coming up from 0.4 million units each one year ago.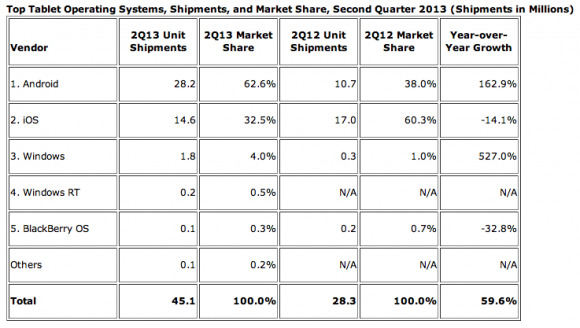 Source: IDC Worldwide Tablet Tracker, August 5, 2013
Meanwhile the tablet market shows obvious growth rates – obvious once you've seen the hardware unit sales, that is, starting with Android device unit shipments bringing up a 162.9% growth over last year, 10.7 million units compared to this year's 28.2 million units. Android and iOS have effectively traded places on how much of the market they command, with Android's 38% of the market in Q2 of 2012 being replaced by a new 62.6% leadership and iOS' 60.3% of the market in 2012's Q2 being cut down to 32.5% in 2013.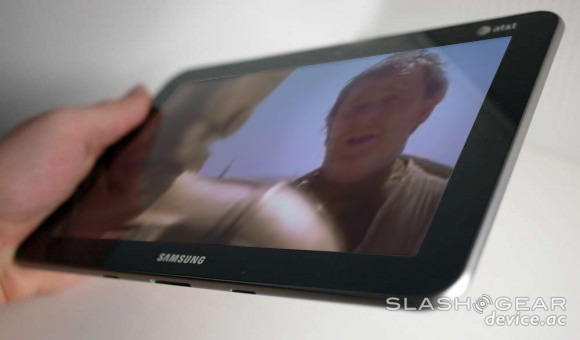 That's more or less the extent of the market, mind you, with the rest of the mobile operating systems in the wild – including Windows, Windows RT, and BlackBerry, amongst others, coming out to a grand total of 5% where they commanded just 1.7% this same quarter last year.
VIA: IDC