IDAPT i1 Eco charges your gadgets while saving the world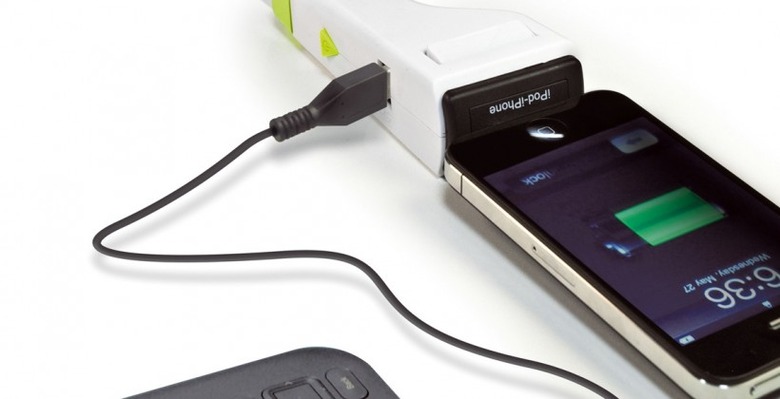 IDAPT is pretty keen on universal charging, but with its latest model there's a dash of earth-friendliness in there too. The IDAPT i1 Eco boasts compatibility with over 4,000 devices – assisted by the fact that there's a regular USB output on there – and automatically shuts off when your gadgets are rejuiced.
Two devices can be recharged simultaneously, and using IDAPT's interchangeable IDAPT Tips the i1 Eco can handle Apple gadgets as well. In the box are three standard Tips – a 30-pin Apple dock connector, miniUSB and microUSB – while input options include 12V from your car or 100V-240V AC for travelling.
IDAPT expects the i1 Eco to go on sale in Q2 2011, and be priced at around €20.
Press Release:
IDAPT i1 Eco – Dual Universal Charger – €20.00 with 3 tips
- Target price under 20 Euros with 3 IDAPT tips TBC

- Available in Q2 2011

- a unique lasting and upgradeable product

- iPad/iPhone/Android/HP/Nokia/Samsung Compatible

- compatible with 4000+ devices

- Mains or car use

IDAPT, a mobile power leader based in Barcelona, is excited to

announce the new i1 Eco dual universal charger. The compact

IDAPT i1 Eco is made of recycled materials, meets Energy Star

standards, and minimises the user's carbon footprint while charging

most electronic devices.

The IDAPT i1 Eco has two points of charge, a USB port and a tip port.

The future-proof interchangeable tips system used on all IDAPT chargers

makes the IDAPT i1 Eco compatible with over 4,000 different devices including

iPad and iPhone as well as BlackBerry, Nintendo PSP, XBOX controllers, GPS

systems and Bluetooth products.

Charges just about every gadget there is – anywhere

- 1 x IDAPT tip point of charge, 5VDC up to 850mA

- 3 x IDAPT Tips supplied Mini USB, Micro USB, iPod/Phone 30 pin

- 1 x USB charge point, 5VDC up to 1A (for iPad and more)

- tips available for almost every phone/smartphone/tablet on the planet

- iPad/Pod/Phone/Blackberry/Kindle/Samsung Tab Galaxy etc etc

- almost every MP3 Player / GPS System / Games Controller & more

- compatible with 4000+ devices

- 12v car input (through MicroUSB)

- universal Voltage (100~240v)

Eco features

- made of recycled materials

- no chemical painting

- auto-off system with re-start button

- meets Energy Star standards

- minimises the user's carbon footprint

- a lasting and upgradeable product

- long working life due to future-proof tip system

The IDAPT i1 Eco charger helps conserve energy through its Auto-off

system which turns off the charger while not in use and a re-start

button to wake it when necessary.

The dual charger can recharge mobile devices while at home or on the

go, via 100v to 240v wall sockets or the included car adapter, with minimal

impact on the environment.

Additionally, no chemical painting is used in manufacturing in order to

ease the process of future recycling.

Future-proof – compatible with 4000+ devices

As of Feb 2011 IDAPTs will charge over 4000+ mobile devices and new tips

are being introduced on a regular basis, making IDAPT future-proof. The

USB port covers all devices like iPads and big tablets not suitable for tip use.

The whole concept of IDAPT's interchangeable tips makes this charger

a lasting and upgradeable product. Most chargers become useless once

users change phone or get another gadget, so they have to be dumped,

causing damage to the environment. By having this charger one only needs

to replace a tip and recycle the old one, saving energy and money.

- AA/AAA batteries

- Nintendo, Sony PSP, X-Box Controllers

- iPod / iPhone (latest generation compatible)

- iPad via high-power iPad verified USB port

- LG1

- Multi-tip A – Samsung / Kyocera / Audiovox / LG / Kindle and many more

- microUSB – Plantronics / Motorola / Blackberry and many more

- miniUSB – Garmin / Magellan / Tom Tom / Navigon and more

- Nintendo DS-L / DSi

- Nokia 1 / Nokia 2

- HP/Palm

- PSP Go

- Samsung 1 / 2/ 3/ 4

- Sansa

- Sony Ericsson 1 / 2

- Almost all GPS Systems