Icon's latest creation is a Tesla-powered 1949 Mercury Coupe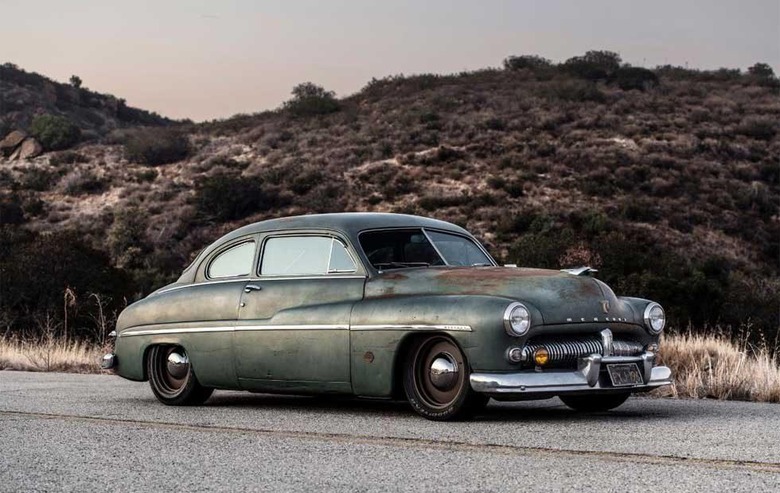 Icon is a company that makes some very cool cars, typically these are restorations of old 4x4's like the sweet Icon BR we talked about before. At SEMA 2018 Icon is on hand and the company has rolled out something very different. Icon is famous for its "derelicts" collection which are cars that look as if they need restoration on the outside with perfect insides and powertrain.
Its latest car has that derelict look but is something entirely different underneath. On the outside, the car is a 1949 Mercury Coupe from the days of no crumple zones and lots of steel. While the car would have had a typical combustion engine in its day, in Icon form the vehicle has the innards of a Tesla inside.
Specifically, the car uses a Tesla Performance 85kWh battery array that has 470 lb-ft of torque and the equivalent of 400bhp. The EV powertrain can push the massive sled to 120mph. Icon worked with a company called Stealth EV to engineer the powertrain, to develop the four-wheel-independent chassis for the car Icon had help from Art Morrison Enterprises. Brakes to slow the beast down are Brembo units.
The batteries were located around the car to give it better weight distribution and the battery controllers and some of the Tesla modules are in a custom aluminum "engine" under the car that isn't an engine at all. To recharge the batteries, Icon relies on a CHAdeMO 125A fast-charger plug that is behind the front license plate.
The Tesla charger that went with the battery pack originally is under the original gas filler door. Icon claims the lead sled can drive for 150-200 miles and can recharge fully in 1.5 hours. Other than the Tesla powertrain, the interior was refreshed, and the car has power windows and new gauges that look as original as possible.
SOURCE: Auto Classics