With Monday's scheduled release of Apple's iOS 8.1 update, the first major upgrade for the latest version of the iPhone/iPad operating system, to include a new iCloud Photos service, it appears the web version has rolled out a few days early for those with beta access. Registered developers who log in to their account on iCloud.com should now find themselves able to use the beta release of the iCloud Photos web client.
A quick rundown of how the service works: once users update their iOS devices to 8.1, they will see iCloud Photo Library within the Photos app. This will allow iCloud storage space to be used for syncing, as well as keeping high-resolution copies of photos, thus saving space on users' iPhones and iPads by only hanging on to compressed versions. Developers who have already been running iOS 8.1 have had access to these features.
But more than just syncing pictures between devices, iCloud Photos also allows access to images via iCloud.com, and from there you can choose specific photos to download to your computer. Similarly, others who have been granted access to view images through shared streams can download images to their own device. For those who like to make edits to their photos by adding filters and such, they can feel secure knowing that the high-res originals stored in the cloud are non-destructive, meaning they can be reset back to their original state before any edits were applied.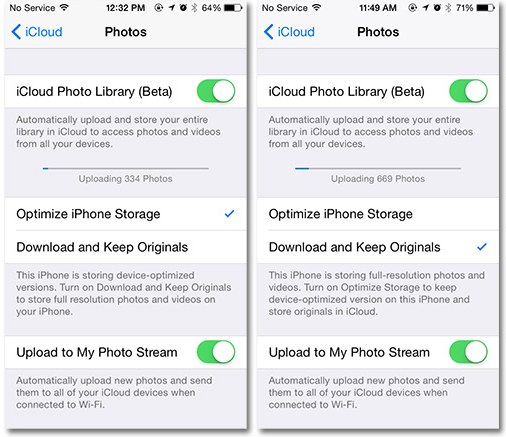 All iOS users are given 5GB of iCloud storage space for free, but with the option to now start storing full-size images in the cloud, not mention any type of file one wishes with iCloud Drive, that initial 5GB can be used up very, very quickly. Thankfully when iOS 8 was introduced in September, Apple began offering a number of storage tiers at affordable prices, with the first option starting at 20GB for only $0.99 a month, 200GB for $3.99/mo, 500GB for $9.99/mo, and maxing out at 1TB for $19.99/mo.
SOURCE 9 to 5 Mac