Ice Red Bags comes out with two new styles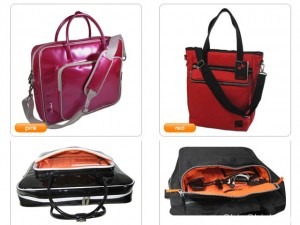 Ice Red Bags have a couple new laptop bags to keep your laptop bag stylishly protected. They are both very different from each other, one being more sporty and the other a bit retro.
The Urban Laptop Tote Bag is the sportier style, it will hold up to a 15.4" laptop. It also has compartments for your smaller electronics and other random objects you may need to carry around. It comes in blue, red, gray and black.
The second option is the Shine Laptop Bag (creative name). It is the more retro, shiny bag, which also features the traditional shape for a laptop bag. It will hold up to a 17" laptop and has an extra pocket on the front for storage of other devices. It comes in pink, gray and black. Although the pink is a bit much, the blackhas more of a sleek look. Both bags are selling for $69.95.
[via chipchick]