iBUYPOWER Paladin Comes in Four Flavors, is Extremely Overclockable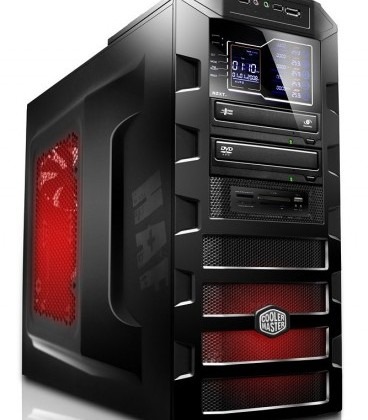 We've got to hand it to iBUYPOWER. They know how to release the computer that just look fun to use. The Paladin series, announced today, is no difference. This is one of those products that we just want to touch. Sure, it doesn't hurt that the innards of these things make us want to actually use them. The company has officially announced the latest in their Paladin series, and these are definitely a chip off the old block.
Each of the four different variations of the Paladin are issued with the new Intel Core i7 980X Extreme Edition Processor, which makes the system quite the healthy benchmark demolisher. As the press release reads, the new systems are "extremely overclockable, and allow unmatched multitasking capability." We just love the word overclockable. It's unique. In any event, iBUYPOWER is banking on the fact that gamers won't have to worry about how many windows/browsers they have open anymore, let alone if they're listening to their favorite music or using GameSpeak, due to their machine's power.
The Paladin F950, F970, and XLC V3 are all equipped with 12GB of DDR3 memory, provide at least 1 TB of storage, and have Blu-Ray Disc players. They all also keep with the liquid-cooling tradition of iBUYPOWER, and offer the "upgrade" for free. Graphics wise, you can choose from an ATI Radeon card, or go with the NVIDIA GeForce variation if you wish. The F970 and XLC V3 are packed with an 80GB Solid State Drive (SSD) and have been upgraded to Windows 7 Ultimate. If you've got $2,159 lying around, then you can start shopping now at iBUYPOWER's website to pick out your favorite piece. Full press release just below.
El Monte, CA – March 18, 2010 – iBUYPOWER, a leading innovator of gaming PCs, is excited to announce four new Paladin gaming systems all powered by the new Intel Core i7 980X Extreme Edition Processor. The new 6 core processors are extremely overclockable, deliver benchmark shattering performance and allow unmatched multitasking capability. Gamers need not be concerned with having multiple browsers open, team speak, or MP3s files playing while gaming due to the new processor's revolutionary hyper-threading technology.

The four new configurations all feature the finest components available, including the newest ATI Radeon and NVIDIA GeForce high-definition video cards, which all support DirectX 11 graphics. The Paladin F950, F970 and XLC V3 all pack 12GB of DDR3 Memory, provide at least a 1 TB of storage space and a Blu-ray drive. The fully loaded F970 and XLC V3 also come standard with an 80GB solid state drive and have been upgraded to Microsoft Windows 7 Ultimate. Additionally, like all iBUYPOWER desktop systems, the newest Paladin model all feature free liquid CPU cooling.

Gamers looking to get the most out of their new six core systems can take advantage of the iBUYPOWER Labs' Power Drive Overclocking Service, which overclocks the CPU by as much as 30% and comes standard on the Paladin XLC V3. Other innovative iBUYPOWER exclusive products and services include the Harmony Sound Reduction System, the Internal USB Expansion System, and iBUYPOWER's Specialized Advanced Packaging System with expanding foam inserts to prevent damage during shipping.

The new Paladin systems start at $2,159 and are available now at www.iBUYPOWER.com.

Customers with more specific gaming needs can configure a fully customizable system at www.iBUYPOWER.com. All iBUYPOWER systems also come standard with 1 year limited warranty and lifetime technical support.