iBUYPOWER Chimera Killer Special Edition Gaming PCs revealed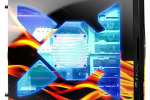 iBUYPOWER announced two new PCs in the Chimera Killer Special Edition line that are sure to please online gamers everywhere. These top-of-the-line systems sport the Chimera Inferno case and "Killer" edition specs.
For instance, they have the Killer Xeno Pro gaming network card, which makes for totally lag-free gameplay even with maxed out frame rate settings. Voice chat is sped up as well, making for more interactive play.
The Chimera Killer Special Edition Gaming PCs are available in Intel and AMD versions that cost $1,899 and $1,499, respectively. Both are available now from the iBUYPOWER website.