iBUYPOWER gaming PCs arrive at Walmart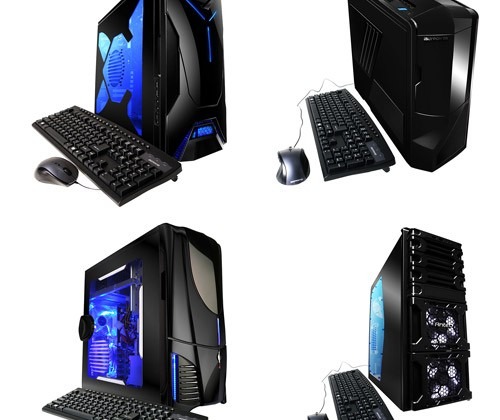 Walmart may not be the first place you think of stopping by when you need a new gaming PC, but iBUYPOWER is hoping to change that. The manufacturer has made a name for itself for high-powered, generally overclocked desktops, and now those computers are also available through Walmart's online store.
Systems can be configured with a choice of AMD Athlon X6 645, AMD Phenom II X4 840 or X6 1075T, Intel Core i5-2500K or Intel Core i7-2600K processors, along with various AMD or NVIDIA graphics cards. RAM is up to 8GB while storage is up to 2TB, and there are various optical drives and cases to pick between.
Unfortunately this doesn't mean you can head down to your local bricks & mortar Walmart and sign up for an iBUYPOWER PC, but perhaps if online sales are strong enough then it's something they'll consider branching out to. The Walmart iBUYPOWER gaming PC range kicks off at $578.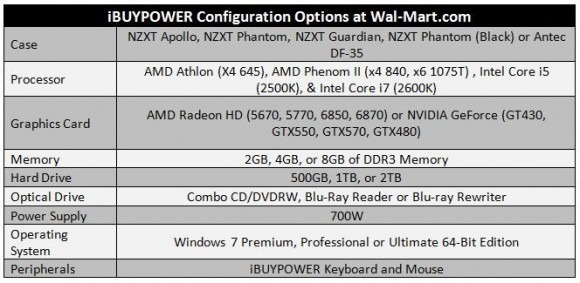 Press Release:
iBUYPOWER Partners With Wal-Mart to Launch Custom Configurator on Walmart.com – Build Your Own Gaming Desktop Bundle

26 Apr 2011

With many components to choose from Wal-Mart customers can configure hundreds of different iBUYPOWER gaming systems

El Monte, CA – April 26, 2011 – iBUYPOWER, a leading innovator in gaming PCs, is excited to announce it has partnered with Wal-Mart to launch the retailer's first custom configurator on Walmart.com – Build Your Own Gaming Desktop Bundle Wal-Mart customers will now be able to configure a desktop to meet their specific gaming needs.

"There are few brands in the world that are as recognizable as Wal-Mart," said Darren Su, Vice President of iBUYPOWER. "It is an honor to be chosen to join forces with them to offer custom built PCs, and will introduce the iBUYPOWER brand to an entirely new segment of gamers."

Wal-Mart customers will have 5 cases to choose from, both AMD and Intel "K" processor options, 3 different memory options, 3 hard drive sizes to choose from and both AMD Radeon and NVIDIA GeForce graphics cards options, 3 different optical drives to choose from and three versions of the Windows 7 operating system. The result is over 10,000 different possible hardware configurations (see complete component list below).

The new customizable iBUYPOWER systems from Wal-Mart start at $599 All iBUYPOWER systems come standard with 1 year limited warranty and lifetime technical support.