I-O DATA HDL2-G NAS with RAID & Toshiba TV integration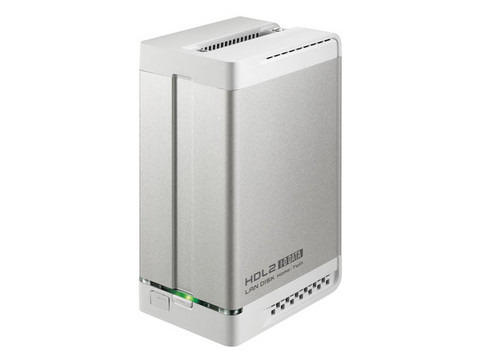 Typical, you wait all this time for a straightforward twin-drive RAID array and two turn up on the same day.  Well, maybe it's not something we've been actively waiting for, but hot on the heels of Western Digital's My Book Mirror Edition comes I-O DATA's HDL2-G.  Again, it's a dual-drive unit offering 1TB or 2TB of storage in RAID-0 Striped format, only this time I-O DATA have done the sensible thing and fitted a gigabit ethernet port as well as USB. 
USB is still there, though, and allows you to plug in another external hard-drive or, more interestingly, connect up one of Toshiba's REGZA TVs (the ZH500, ZV500 and Z3500 are compatible) and play stored media on the big screen.  In RAID-1 configuration you have the same 500GB or 1TB of storage as in the My Book device (half the total capacity is put aside for an ongoing backup) and I-O DATA supply a re-mirroring DVD to quickly get the HDL2-G up and running again in the even of a disk failure. 
Swapping out the disks is pretty easy too, with only a coin required to open the system up.  The HDL2-G may not have WD's clever GreenPower energy-saving functionality, but it can shut-down the drives when they're not being accessed.  A front USB port lets you plug in digital cameras or USB memory sticks and, with a touch of a button, suck out all the data.  It'll only copy new files, so as not to waste time or space, and they're automatically organised into slideshows for viewing on the TV.
DLNA and iTunes server compatible, the HDL2-G can act as a media server and stream to network media players or your PS3.  The 1TB model is 42,300 Yen ($395) while the 2TB is 74,300 yen ($695).  That's a fair chunk more than the My Book Mirror Edition, but you do get a number of extra features (and that all-important network connectivity) from I-O DATA.
[via Akihabara]