Hyundai wants to reignite the Millennial truck love affair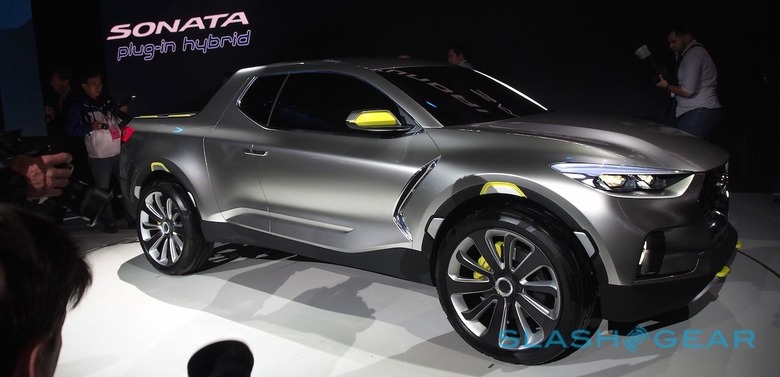 It's the El Camino for the crossover generation, with Hyundai's moon buggy styled Santa Cruz concept sating what the company insists is a lingering appetite for pick-ups among Millennials. Truck sales among younger buyers may be fading, Hyundai said during its Detroit Auto Show event, but that's an opportunity not a hinderance, it insisted. The result is a "Crossover Truck Concept" that seats five and offers a fairly capacious load area, all in a footprint more commonly associated with a moderately sized sedan.
There's a swathe of marketing speak to cut through if you want to get to the concept's core value proposition, mind. Hyundai is pitching the Santa Cruz at "the unspoken needs of a growing Millennial lifestyle we call 'Urban Adventurers," according to corporate planning chief Mark Dipko.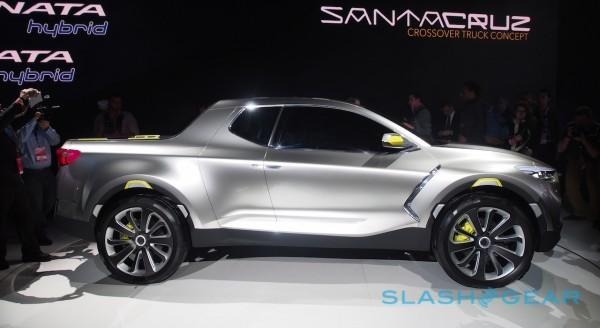 An Urban Adventurer is "very active both socially, and in their communities, bringing a pioneering spirit to make their neighborhoods a better place to live and work," says Hyundai's definition. As far as we can tell, that means they may have a dog, could very well go surfing, might need to dispose of a Christmas tree any day now, and don't want a station-wagon or a full-sized truck when they do it.
Instead, they get a Buck Rogers pod, with a hexagonal grill, projector headlamps, and vast wheels. Yellow detailing – on the side mirrors, the brake calipers, dotted around the vents, and on the tie-down holes around the load bay – contrast nicely with the silver paint-job. It looks a little like a running shoe, true, but it's an eye-catching running shoe.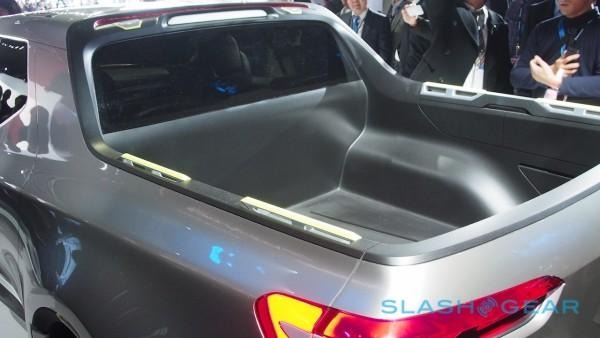 While it may look like a coupe, there's actually room for three in the rear seats, which are accessed by clamshell doors. The bed pulls back to expand how much you can store in there, too.
Under the hood, meanwhile, there's a 2.0-liter turbo diesel with 190 HP and 300 lb-ft of torque, which should combine both decent pull and what Hyundai claims would be economy in the high-30mpg range.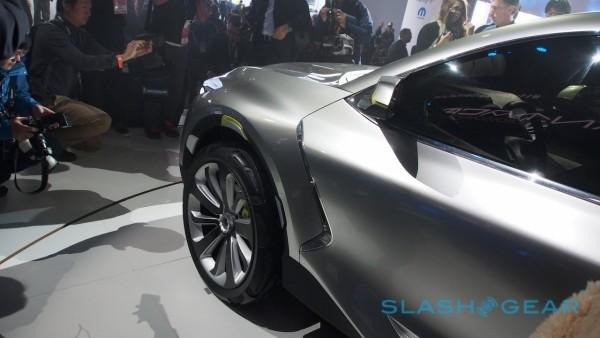 Whether it gets green-lighted will presumably depend on how many of those Millennials Hyundai gets positive feedback from. Right now, buyers under 30 account for only 7-percent of truck sales, as crossovers and CUVs gain more attention.