Hyundai Sonata Hybrid SE Promises 40 Mpg In The City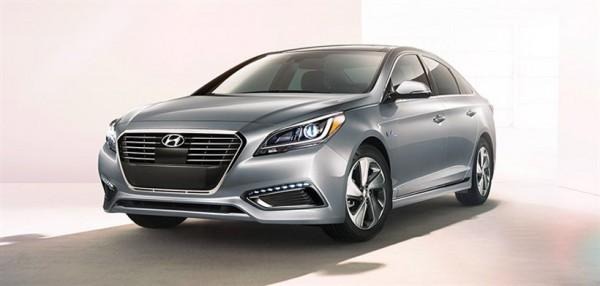 Hyundai has pulled the wraps off its second-generation Sonata Hybrid this week and it gets some unique touches to set it apart from the normal Sonata models in the line. Those unique touches include unique wheels, and unique front and rear fascias. Those unique front and rear fascias are there to do more than just make the car look visually different from the other Sonatas in the range they also improve aerodynamics.
The 2016 Sonata Hybrid uses a smaller 2.0L Nu GDI four-cylinder engine paired with a six-speed automatic transmission. The combustion engine is mated with a more powerful 38 kW electric motor and clutch where normal cars have a torque converter. That larger battery and the transmission-mounted electrical device are able to deliver fuel economy and the feeling of a larger motor.
The fancy transmission has an electric oil pump to improve efficiency and the car is able to operate solely on electricity as speeds of up to 75mph. It does that by decoupling the gas engine from the rest of the drivetrain. The engine itself produces 154hp and 140 lb-ft of torque. The electric motor makes 51hp and 151 lb-ft of torque and they combine for 193 net hp.
Hyundai says that the Sonata Hybrid is expected to achieve 40 mpg in the city and 44 mpg on the highway with a combined rating of 42mpg. That is a 10% improvement in fuel efficiency compared to the 2015 model. The lithium-polymer battery pack is mounted in the trunk floor and is a 1.62 kWh unit. The car can be fitted with a wealth of safety features including blind spot detection, lane change assist, and lane departure warning. Pricing is unannounced at this time.
SOURCE: Hyundai