Hyundai shows off 2014 Equus design in two videos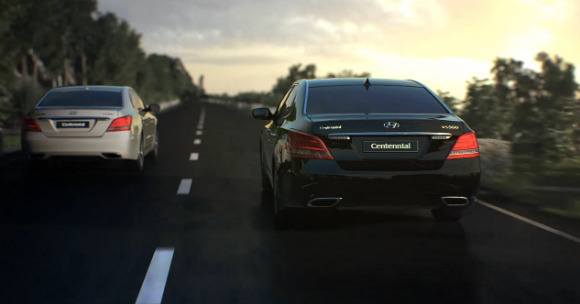 Hyundai is set to debut its 2014 Equus (also known as the Centennial) at the upcoming New York Auto Show. In preparation, the manufacturer has released two videos giving us a pretty solid glimpse of the car, the first one showing off its driving dynamics, and the second offering a look at its concept and design. We have both the videos after the jump.
The driving dynamics video is interesting enough, mostly providing a complete look at the Equus's body, but also offering a few glimpses at its interior, where we see a concept animation of its instrument panel modes. There are close ups of the lights, windows, and other such aspects of the vehicle, all of it set to gentle piano music with the occasional flower petal fluttering by.
The second video featured below is its polar opposite, setting the scene with dramatic music that accompanies us throughout the car's interior, where we're given point-by-point looks at its different features, both external and internal (but mostly internal). Check out the video, then get a run down of its specifications below.
The Equus will be available in White Frost AT, Sterling Silver AU, Phantom Black AF, Hyper Metallic NY, Blue Baltico PUE, and Cona Black VB2. The vehicle features fully adaptive LED headlights, wrap-around LED rear lights, a card-type start key, a shift by wire transmission system, and there's a 9.2-inch monitor in the center console. Perhaps its most alluring feature, however, is the full thin-film transistor LCD cluster, which changes styles based on the driving mode.
We'll have more details when the 2014 Equus makes it debut later this month.
[via AutoBlog]