Hyundai NEXO fuel-cell SUV revealed with 370 mile range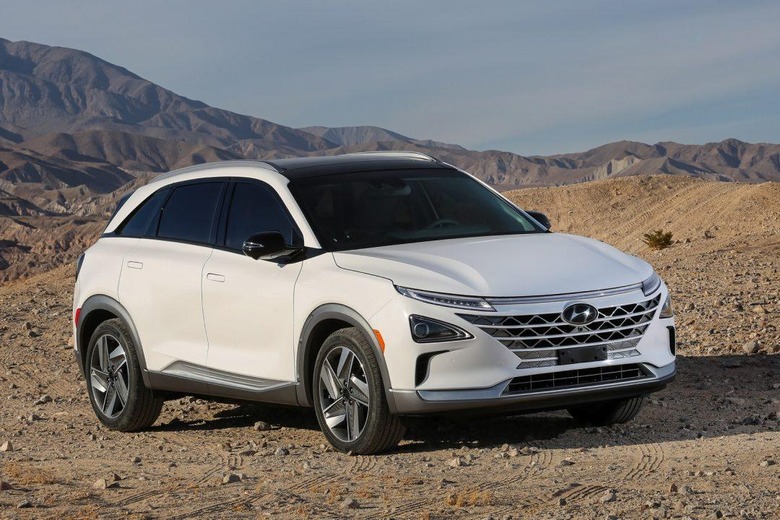 Hyundai has revealed the new Hyundai NEXO, its new fuel-cell vehicle packing the automaker's latest driver-assistance technology. Officially named at CES 2018 today, the hydrogen-powered SUV can beam video from both sides of the car to the dashboard during lane-changes, along with the automaker's first implementation of lane-following assistance.
NEXO is, Hyundai says, the first of its new range of green-minded vehicles, expect to number 18 by 2025. Not all will be hydrogen powered, of course, though nor is the NEXO the automaker's first ride in the fuel-cell rodeo.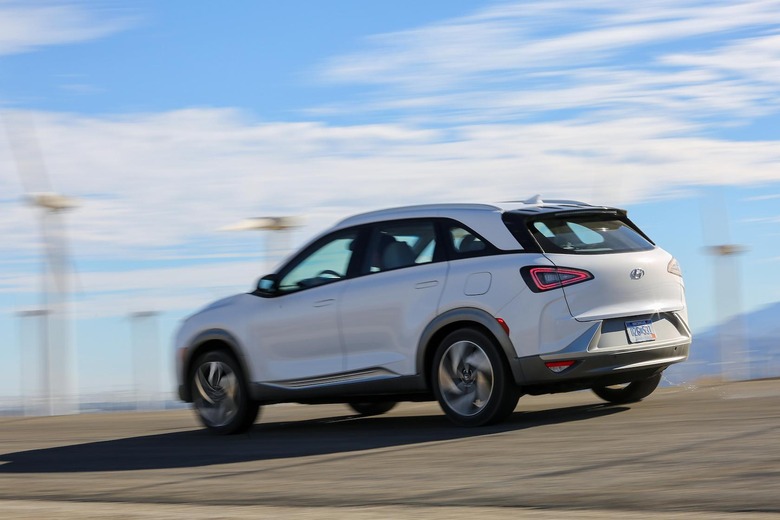 It's actually Hyundai's second-generation hydrogen car, following the Tucson FCEV. Along the way it has increased range significantly, with Hyundai claiming the NEXO will do 370 miles on a full tank of hydrogen, 105 more than the old car. Peak acceleration is 25-percent faster than the Tucson FCEV, while the 0-60 mph time is 9.5 seconds, versus the old car's 12.5 seconds. [Update: "95 seconds" was, you've probably guessed, a typo - thanks Steven!]
Despite the powertrain being smaller than that of the Tucson FCEV, the NEXO is actually more powerful. It has a 120 kW motor with 291 lb-ft. of torque – versus 100 kW and 221 lb-ft – and overall power is up from 124 kW to 135 kW. Perhaps unexpectedly, the fuel cell is actually a little less powerful, down 5 kW to 95 kW, but the battery is almost twice as large at 40 kW.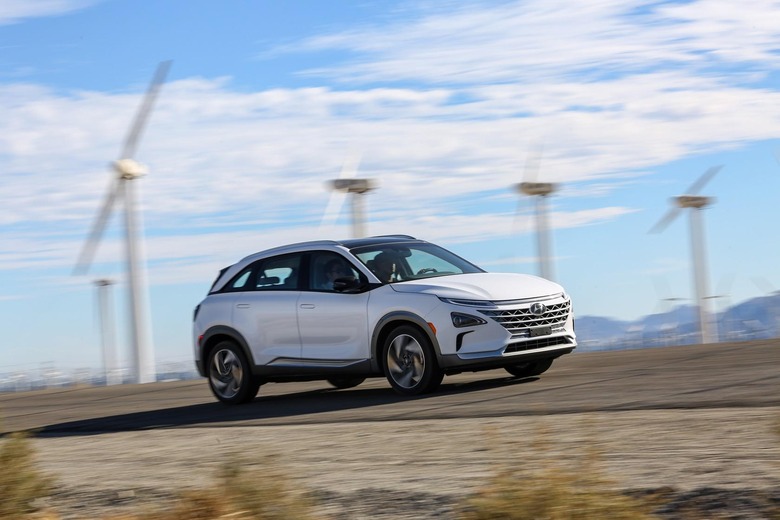 Hyundai is claiming the NEXO can be refueled within five minutes – assuming, of course, you can find a hydrogen pump – and there's more cabin space along the way. It'll debut some advanced driver-assistance (ADAS) technology too.
Blind-spot View Monitor, for example, beams video from the neighboring lanes to the dashboard display when you hit the turn signal. Honda has done that with the offside lane, but the NEXO is doing it on both sides. Meanwhile, Remote Smart Parking Assist allows the NEXO to autonomously park or retrieve itself from a space – including backing into a spot – without the driver themselves inside.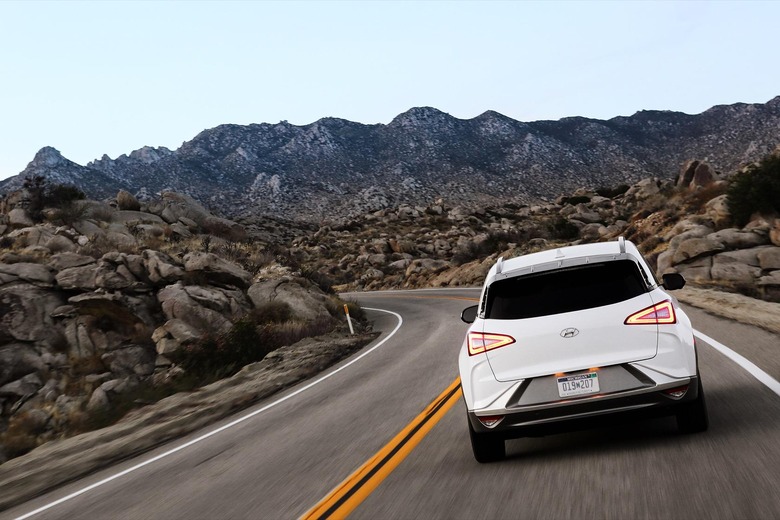 Finally, there's Lane Following Assist and Highway Driving Assistant. The former is Hyundai's first implementation, keeping the NEXO centered in the lane between 0-90 mph on both highways and city streets. The latter, meanwhile, uses a combination of sensors and map data to control speed changes autonomously as the driving environment changes.
Hydrogen as an automotive fuel certainly has some big names behind it: along with Hyundai there are options from Toyota and Honda, for example. What remains to be seen is whether the infrastructure required can expand fast enough to keep up with those automakers' ambitions. The Hyundai NEXO will go on sale in select markets from early this year.