Hyundai Kona electric SUV unveiled in New York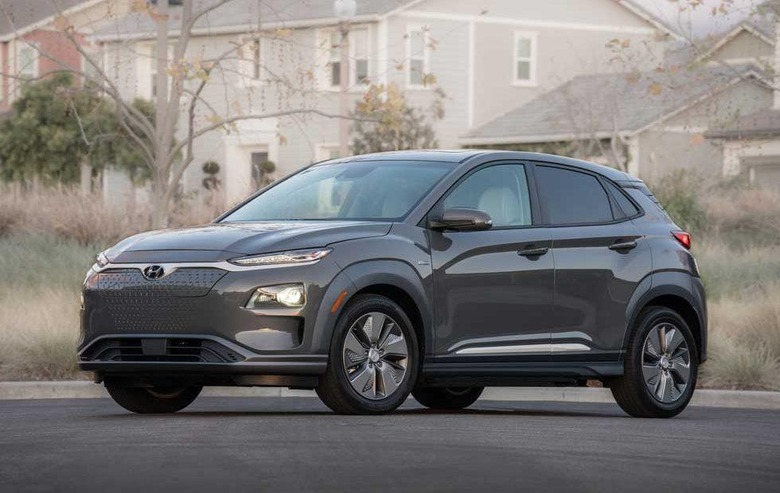 We have already talked a bit about the Hyundai Kona electric SUV when it was first announced back in February. At the time, the SUV was promising a very impressive driving range of 292 miles per charge for the high-end model. Hyundai has now made the official unveiling of the US-market Kona and while the specs are good, they aren't as good as we expected.
Hyundai is now saying that the Kona will go an estimated 250 miles per charge. It's not made clear if this is for the stock or extended range version talked about in the original announcement last month. It appears that this is the only version of the Kona the US will receive, at least for now.
Hyundai says that the Kona will be available starting in Q4 2018. Initially, the Kona will only be offered in California with availability on other "ZEV-focused" states in the western and northeastern regions later. The new announcement also comes with better images to show us what the Kona will look like. It's certainly an attractive vehicle.
It's motivated by a 201hp, 291 lb-ft electric motor and power is from a high-voltage 64 kWh lithium-ion battery able to charge to 80% in 54 minutes with a level-III charger. A full charge with a Level-II takes nine hours and 35 minutes. Kona buyers get a standard floating touchscreen with Apple CarPlay, Android Auto support. Hyundai Smart Sense tech is integrated.
That includes forward collision avoidance with pedestrian detection, driver attention warning, lane keeping assist, blind-spot collision warning, rear cross-traffic collision-avoidance, and high beam assist. Several options are available with an 8-inch nav screen, shift-by-wire center console with lower storage, Blue Link connected car, heads-up display, rain sensing wipers, and Qi wireless device charging. Pricing is unannounced.
SOURCE: Hyundai