Hyundai Kona fully-electric SUV has 292-mile range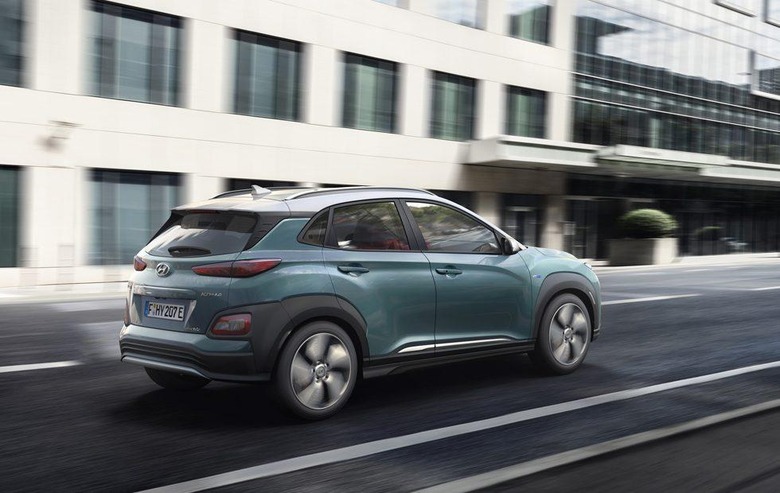 Hyundai has announced its all-new Kona electric SUV. The Kona is the first fully-electric subcompact SUV that will hit the European market. Hyundai plans to make the Kona with two different powertrain versions with one offering up to 470 km or 292 miles per charge.
The basic powertrain in the Kona is a 39.2 kWh version that can go up to 300km on a charge or about 186 miles. That basic powertrain offers 135ps (99kW) of power. The top of the line powertrain is the long-range version that has a maximum output of 204ps (150 kW) and can drive the full 470km or 292 miles.
Hyundai says that the Kona can accelerate from 0-100 km/h in 7.6 seconds, it's not drag racer but has decent performance. The SUV is fitted with LED daytime running lights on top of the LED headlights. Kona will have a two-tone roof and come in seven exterior color options.
Regenerative braking that is adjustable by the driver captures energy to recharge the battery pack and it uses paddle shifters behind the wheel. Drivers get a 7-inch supervision cluster with key detail about driving performance and a heads-up display shows relative driving information in the line of sight.
The infotainment system supports Apple CarPlay and Android Auto. A full suite of driving assistance systems are fitted with Hyundai's SmartSense featuring Forward Collision Avoidance Assist with Pedestrian Detection, Blind Spot Collision Warning including Rear Cross Traffic Collision Warning, Lane Keeping Assist, Driver Attention Warning, Intelligent Speed Limit Warning and Lane Following Assist. Pricing and availability are unknown at this time.
SOURCE: