Hyundai developing next fuel cell SUV with 348-mile range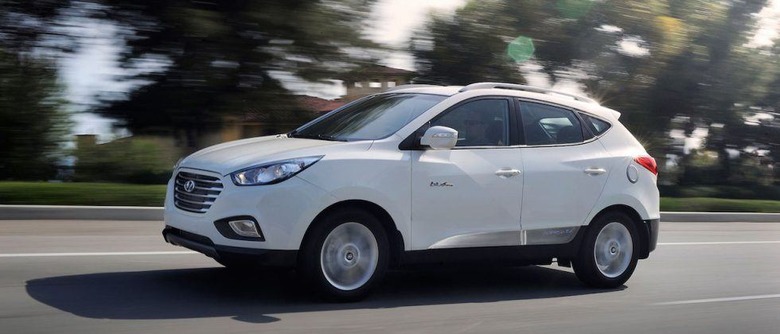 Hyundai's first fuel cell was the 2014 Tucson SUV, and despite it already being overpriced and lacking in range compared to rival vehicles, the car maker is hard at work on a successor that ups the ante. According to Nikkei, the Japanese business publication, Hyundai is planing to debut a second generation fuel cell SUV in early 2018, boasting a range of 348 miles on a single tank.
That range would give Hyundai's next fuel cell offering a 30% improvement over the current model, and even best the 312-mile range of Toyota's Mirai, putting it just within reach of the Honda Clarity Fuel Cell with its 366 miles.
It seems Hyundai is aiming to release the new fuel cell SUV in January 2018, with a price around $50,000. In the US, the current Tucson Fuel Cell is only available in California on a lease plan, but it's still not clear if Hyundai will continue with that arrangement.
Nikkei notes that 2017 will also see the debut of Hyundai's fuel cell-powered commercial bus, putting it in direct competition with a similar vehicle from Toyota, as well as the US release of the Ioniq sedan, the company's first all-electric model.
SOURCE Nikkei