Hyundai Blue Link Smartwatch App Wrist-On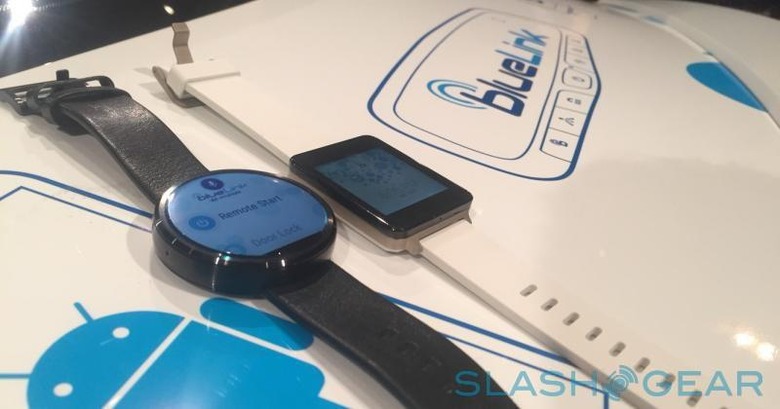 Smartwatches are popping up everywhere here at CES 2015, even in cars! As reported earlier, Hyundai is indeed bringing its Blue Link system to the showroom floor and it is bringing it to your wrist. The Android Wear incarnation of the app, as expected, lets you control certain functions of your Blue Link-enabled Hyundai car by talking to your wrist, which probably brings to mind many a spy or sci-fi show. We take a hands-on, or a wrist-on rather, tour of what Hyundai has in mind when it comes to wearables.
The Blue Link system already exists for smartphones, so this is simply the "mini" version of the app, designed and optimized for smartwatches. The app works with Android Wear smartwatches currently in the market, including those from Samsung, LG, Motorola, and Sony. Like most Android Wear apps, you can choose to either tap and swipe your way through or use your voice to reach certain functions. Given the context where you'll be using the app, voice will be the preferred mode of interaction.
Blue Link's smartwatch incarnation brings a couple of quick access controls to your wrist. These include remotely starting or stopping the car, unlocking and locking doors, toggling horns and lights, calling Roadside or Blue Link hotlines, checking your car's status, and, probably the most useful one of all, helping you remember where you parked your car. Of course, there will always be a danger of distraction when you take a peek at your watch while driving, which is why using your voice is the ideal and safer way to use Blue Link.
The Blue Link smartwatch app will be available from Google Play Store starting the first quarter of the year. Some Hyundai models, like the 2012 and 2013 Sonata, already support Blue Link, but the car maker will be expanding it to more lines this year, including the 2015 models of the Genesis, Sonata, and Azera.