Hyperkin RetroN 5 multi-console release set for December 10th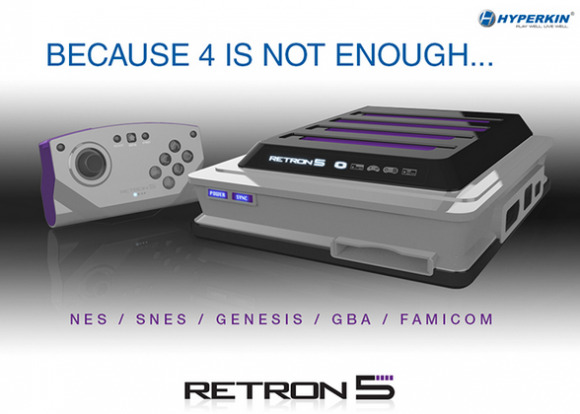 So you're in the mood for playing games from 9 different consoles from the past couple of decades, but you want to do it all on one device – you're in luck. There's a device with just that set of features aimed at appearing on the 10th of December, and it goes by the name Hyperkin RetroN 5. This machine will be released in both the USA and in Europe at the same time, so they say, and it'll be appearing at less than a hundred bucks – with several key improvements since its last appearance at E3 2013.
This machine works with games from five different main gaming console families – that's why it carries the "5" in its title. These families are NES (Nintendo Entertainment System, that is), SNES, Sega Genesis, GBA (Gameboy Advance), and Famicom. This name also has to do with the company moving from four slots to five – the previous device went by the name RetroN 4.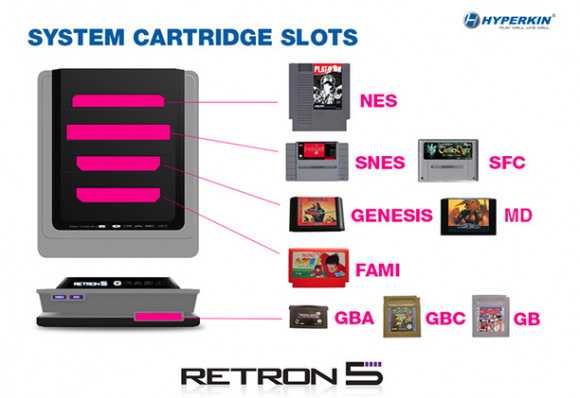 In the slots available, this beast will be able to play games from Super Famicon, Mega Drive, Game Boy Color, and original Game Boy as well. With the high-powered chipset this machine employs (unnamed at the moment), the team at Hyperkin suggest that they're able to ensure all region locks and compatibility issues will be a complete non-issue – this includes both NTSC and PAL cartridges as well. That includes axing all issues with FX chips and CIC lockout chips, too.
Along the back you've got a full-sized HDMI out, AV out (yellow, red, white), and a full-sized USB port for charging a wireless controller of your choice. On its right side, the RetroN 5 shows an original SNES controller port, original NES, and original Genesis as well. You'll also be supplied with a single RetroN 5 bluetooth controller with a sort of cross-breed look to it – something every system will be able to enjoy.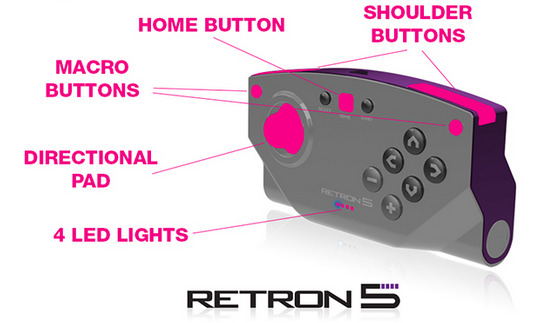 The full system will be appearing JUST in time for you-know-what season for a cool $99 USD. Now we've just got to see how well it works with Killer Instinct and we'll be good to go. Let us know if you've been up-close with this device yet and/or if you plan on jumping aboard once it's released into the wild!
VIA: Hyperkin